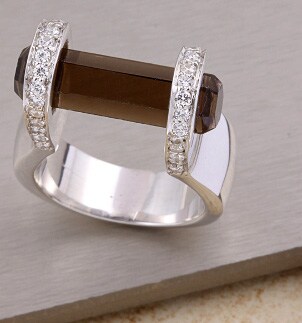 A band of gold or silver around the finger has been a jewelry custom since the day when precious metals were first discovered. Rings have remained popular throughout history and have held a special place in our traditions by serving as a romantic symbol for weddings, betrothals, promises and anniversaries. Jewelry rings of all kinds are stylish and trendy today. When you are shopping for jewelry, you will come across a large selection of rings. Whether you are shopping fine jewelry, fashion jewelry or romantic jewelry, it's important to choose jewelry rings that will add flair and style to all your outfits. Use our tips to select stylish rings for your collection.
Stylish Rings to Collect:

Cocktail rings: Cocktail rings have been trendy for at least six decades. In the 1940s and '50s, these large, ornate rings became the perfect party dress accompaniment. Women at fancy parties could be seen sporting dramatic rings made of gold and gemstones and rings with floral adornments while sipping martinis and Manhattans. Cocktail rings today are much more versatile, like most other pieces of fine jewelry and fashion jewelry. You can wear a cocktail ring almost anytime to add drama to your look. Try a cocktail ring with a large, intricately carved gemstone or shop for cocktail rings with avant garde metal sculptures.

Bands: Bands are simple and sleek, whether they are made of yellow gold, white gold, sterling silver, titanium, stainless steel, tungsten or more unconventional materials. Bands are most famous for their popularity as the preferred wedding ring choice, but you can wear bands for many other reasons. Sterling silver bands are often engraved with meaningful phrases and symbols. Bands may also be adorned with embellishments and sparkle. Bands of all types are great for daily wear; choose a band-style ring that is personal and sentimental.

Stackable: Stackable rings are very trendy because they allow you to customize the jewelry yourself. Stackable rings are often sold in sets; you may find stackable rings in sets of three, four, five or more. Bands made of gold can be stacked with matching solitaire rings and rings with channel-set gemstones. Stackable rings make a fun gift and can easily be mixed and matched with rings you already own for a truly one-of-a-kind look.

Knuckle rings: Knuckle rings consist of two rings connected by one charm, embellishment or sculpture. Knuckle rings are worn on two fingers and are very eye-catching. Some knuckle rings are worn on three or four fingers at once and are theatrical and artistic. Wear knuckle rings out to your favorite hot spot or to a very trendy party.

Buy Rings
Back to Guides Directory