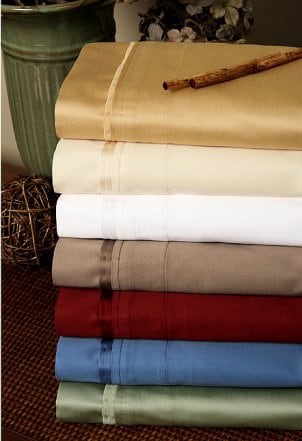 Changing your bedding, especially your sheets, is a great way to change the look of your bedroom as well as improve your night's rest. As you're looking for new sheets, think beyond color and thread count. The weave used for a sheet set makes a big difference in how your sheets will feel and look. Keep reading to learn more about five different sheet weaves and their characteristics.
5 Luxury Sheet Weaves:

Sateen sheets. Sateen is not satin, though they are similar and are often confused. Sateen sheet sets are usually made from cotton and you can identify sateen by its light sheen -- not as glossy as satin, but shinier than your typical sheet fabric. Sateen sheets obtain their sheen through the weave of the fabric: four warp threads and one weft thread. Sateen sheets offer a good balance of durability and luxury.

Satin sheets. Satin is very similar to sateen. It is actually woven in the same way, but whereas sateen sheets are usually made from 100 percent cotton, satin sheets use materials like polyester and silk, which give them their signature glossy look. Satin sheets feel and look wonderful, but they are more delicate than sateen sheets because of the materials they're made from.

Damask Sheets. Damask sheets feature patterns that are made by contrasting fabric textures. For example, many popular damask sheets are striped, but instead of using alternating colors, the stripes are made by alternating a sateen weave with a matte weave. Most damask sheets feature simple patterns like stripes, checkers and polka-dots.

Jacquard sheets. Jacquard sheets are sheets woven with patterns and images. Whereas damask sheets feature simple patterns in one color, jacquard sheets can feature complicated images and multiple colors. Jacquard fabrics are often heavier than other weaves.

Jersey sheets. Jersey -- technically a knit, not a weave -- is the fabric that t-shirts are made from. Because they are soft to the touch and offer a bit of stretch (common in knits but not in weaves), jersey sheets have become popular as a form of luxury bedding for people who care about comfort most of all. Jersey sheets are low maintenance and fairly inexpensive.

Buy Sheets
Back to Guides Directory