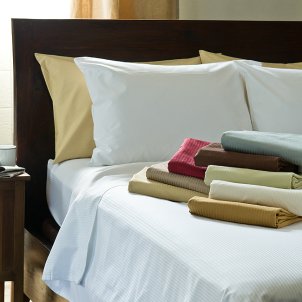 Do you change your sheets with the change in seasons? They have a huge effect on how comfortable you are at night. Certain fabrics are designed to insulate and others to keep you cool. With the right sheets, you can adjust how you feel under the covers, no matter what time of year it is.
Best Sheets for Each Season:

Spring: Traditional cotton or fleece sheets are generally the two best choices for spring weather. If it's been a cold spring, opt for fleece sheets, which will keep you warm with their thick fibers. Cotton sheets are better for hot weather because cotton breathes well and keeps you cool.

Summer: Stay cool in summer with sheets made of natural fibers. Synthetic fibers don't allow airflow and can get hot at night, so if you would like to feel cooler, stick to cotton and silk. If your bedroom is sunny, remember that silk is very sensitive to sunlight, so you may want to consider cotton sheets.

Fall: Depending on how cold your home gets in the fall, you'll want to choose fleece or high thread count cotton sheets. Cotton sheets come in several varieties, from jersey knit (the same fabric T-shirts are made of) to luxuriously soft woven Egyptian cotton sheets. The durability and versatility of cotton make leaving these sheets on a bed year-round feasible and convenient. If you get chilly, pull out your flannel sheets and leave them on through fall and winter.

Winter: During the coldest months of the year, your sheets need to be the warmest. Flannel and fleece were designed to be insulators. The two fabrics are very similar; the main difference between the two is that flannel is made of cotton, cotton blends, or wool while fleece is made of polyester or another synthetic fabric. Generally, the thicker the sheets, the softer they will be. Some bedding will have a GSM rating, which stands for grams per square meter. Thicker sheets will have a higher GSM rating. You may not always want to choose bedding with the highest GSM rating, however; preferences for thickness vary. It is possible to purchase high-quality sheets that are not thick. If you get hot when you sleep, you will want to purchase a thinner sheet with a lower GSM.

Buy Sheets
Back to Guides Directory