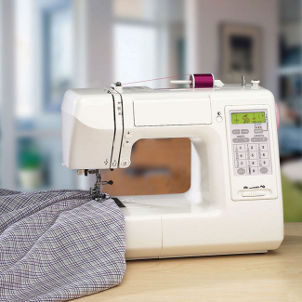 With guidance and a touch of creativity, you can take on lots of different projects with sewing machines. From basic mechanical models to computerized sewing machines, these machines offer a variety of stitching options and allow you to create a professional finished product.
About Sewing Machines:

Four types of sewing machines are designed for home use. The mechanical sewing machine, the first kind that was invented, uses a back-and-forth oscillating shuttle to maneuver the needle. Later, an electronic sewing machine was invented with a pulse to guide the sewing needle. Modern computerized models use electronics and a micro-compressor to store and retrieve data. Sergers are used to put the finishing touches on fabric projects.

Each sewing machine has different features. Mechanical sewing machines, used from the mid-1800s until the 1960s, offer a basic straight stitch. High-end models also featured zigzag stitching. The invention of the electronic sewing machine in the 1970s allowed for an increase in stitching styles with more precision. The fabric is guided by a feeding mechanism, making detailed patterns easier to create. Computerized sewing machines utilize all the features of an electronic machine with the added ability to store patterns and instructions in a memory system. They also come preprogrammed with a variety of stitch options and functions. Once a pattern is selected and the fabric is positioned, a computerized sewing machine can complete the project with minimal human guidance. Sergers use small knives and needles to cut and finish the edge of a seam with loop-style stitches. Sewing machine accessories, such as different presser feet that snap on and bobbins, can also help you to achieve the look you want on various projects.

Find a sewing machine with the functions you need. Each type of sewing machine is used to attach pieces of fabric with thread or create a pattern of thread on fabric. Creating decorative craft pieces, such as samplers or quilts, or making ornate stitching on clothing is possible with an electronic or computerized sewing machine. Sergers make it simple to create a clean hemline on stretchy, smooth or thick fabrics in one pass. Due to the invention of electronic and computerized machines, mechanical sewing machines are rarely used for projects. Beginners may be introduced to sewing basics on a mechanical model in a sewing class. The simple machine helps teach control of the fabric, how the needle is used to join fabric with thread and how to change thread manually.

Look for specialized functions for more advanced sewing. Special features commonly available on electronic and computerized sewing machines include options for creating button holes, installing zippers or adding monograms. Some machines offer basic embroidery and applique functions.

Keep your sewing skills and needs in mind when purchasing a sewing machine. Buy a machine with the settings, needle sizes and the ability to use thread that accommodates the fabric you work with most often. Also, note the sewing machine accessories available for your machine in case you want to create different projects in the future.

Buy Sewing Machines
Back to Guides Directory