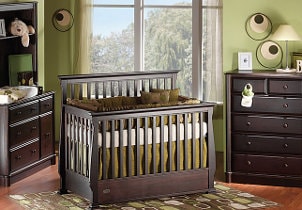 It's easy to buy a nursery furniture set that looks good, but finding one that is safe for your baby takes closer inspection. Your baby's safety comes before all else, and the nursery is where your baby is going to spend most of his time. The right baby furniture set can make all the difference when you're looking to build a safe, secure nursery for your child. How do you know that the nursery furniture set you've chosen is going to be safe enough for your baby? The following tips can help you determine whether or not the baby furniture you're considering for the nursery is going to make the cut.
Nursery Furniture Safety:

Cribs: Cribs need to be in good condition when you purchase your nursery furniture set to avoid any accidents or injuries. The slats of the crib should be no more than 2-3/8 inches apart. Cutouts in the head and footboards could cause your baby's head to become entrapped in them, so make sure the nursery furniture set has a crib with solid head and footboards. Drop-side cribs were banned by the U.S. Consumer Product Safety Commission and should be avoided due to the number of infant deaths they have caused. You'll also want to make sure that the mattress support secures fast to the head and footboards of the crib.

Changing tables: Changing tables should have raised sides or a waist restraint to keep your baby from rolling off. When you purchase a nursery furniture set, make sure the changing table is sturdy and in good condition. There should be no gaps in the baby furniture that could pinch or trap little fingers. All locking mechanisms and hinges should be in good condition and placed in areas where your baby can't reach them. All drawers and shelves on the changing table should be easily accessible so that you don't have to take your eye off your baby when you reach for them.

Dressers: Dressers often come with wall anchors to keep the dresser from tipping or falling. This is perhaps the most important feature to look for in a dresser when you purchase your nursery furniture set. You may also want to look for a dresser with child-locking drawers. This will make sure that your baby won't pull a drawer open on himself, and that the draws will not open and fall during an earthquake or other disturbance. If the dresser you purchase with your nursery furniture set doesn't come with locking drawers, consider purchasing child locks you can install yourself. This will make your nursery furniture set safer for you and baby.

Buy Baby Furniture
Back to Guides Directory