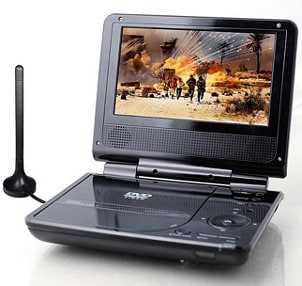 A couple of your family's favorite movies can help keep boredom at bay during your next road trip. All you need is a simple DVD player setup for your vehicle and a few accessories to help you create a mobile entertainment center. Here are some basic items to include with your portable DVD player to keep everyone happy on your next long trip.
Road Trip DVD Players:

Car DVD player: You have two portable DVD alternatives for your vehicle. You can install a car DVD player in the dash or ceiling of your vehicle or you can use a portable DVD player that doesn't require installation. DVD players and screens can be installed in seatbacks, headrests or in fold-down screens on the ceiling. A portable DVD player requires no installation, but it may require additional cables to connect to your car audio system.

A/V cables: If your vehicle already has an interface for your DVD player, you may only need to connect audio and video cables to start enjoying your movies. RVs often have built-in spaces for entertainment centers. A/V cables can also allow you to plug your DVD player into the back of your car stereo.

Power adapter: Most vehicles aren't equipped with normal electrical outlets, so you will probably need an adapter to connect your DVD player to your vehicle's power outlet.

DVD collection: Most of your passengers probably have movies already in mind to watch on the DVD player for your road trip. On the other hand, you may want to look for a few new DVDs to keep in reserve in case you need something they haven't seen before.

Carrying case: A carrying case is nice to have for a portable DVD player. That way, you can stay entertained when not in the car as well. A carrying case is also useful for organizing DVDs, power cords and other DVD player accessories.

Headphones: Not everyone feels like watching, or listening, to the DVD player on the road. Headphones are a good way for a few people to watch a movie while someone else is reading a book or trying to catch some rest.

Buy DVD Players
Back to Guides Directory