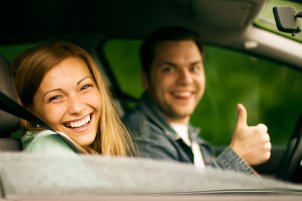 A successful road trip takes planning. You'll need to properly pack your luggage and prepare your car and your family for the trip. You'll want to be prepared for emergencies, too. Follow this checklist for a fun and memorable trip.
Road Trip Essentials:

Car maintenance: Before hitting the open road, get your car in tiptop condition. Take it in for a complete oil change including a check of fluids. Rotate and balance the tires to ensure a smooth ride. Depending on the age of your car and the time since your last maintenance, a transmission service may be advisable. Replace your air filter to help your car run at its best. Replace the windshield wiper blades to ensure clear vision throughout the maze of unfamiliar roads.

Pack up: Make sure to properly pack your bags. Think about your destination, the weather, and your planned activities, and then make a list of what you'll need. Nothing is more inconvenient than having to worry about buying a new bathing suit or tube of toothpaste on the road, so packing efficiently will help alleviate stress from your vacation.

Emergency repair kit: Every car needs an emergency repair kit. To fix minor repairs, the kit should include jumper cables, basic tools, duct tape, and gloves. To be sure others can see you while disabled on the side of the road, include flares, reflectors, a reflective vest, and a rain poncho. Other basic needs include flashlights, a blanket, a first aid kit, and plenty of water.

Communication/navigation: Most people can't imagine leaving home without their cell phone even to run to the store, but for a long road trip this really is a necessity. Don't forget the car charger. If your trip is to get from point A to point B, print out directions or invest in a GPS device. For those without a detailed plan, a GPS can help you find points of interest, rest stops, hotels, and restaurants. Also take a map as a backup to the GPS.

Pack the snacks: Before leaving the comfort of your own kitchen for the open road, pack your family's favorite snacks and drinks. This will ensure that you always have something on hand for the inevitable "I'm hungry" coming from the backseat. It's also a good idea to bring a bit of cash for snacks at rest stops.

Entertainment: If you are traveling with children, take along plenty of toys and games to keep them entertained throughout the trip. A well-planned bag includes books, travel games, art activities, and more. Make a rule that your kids can only pull one thing from the bag each hour to ensure they don't use up all their entertainment options right away.
What Do You Want to Do Next?

Shop for Luggage & Bags
Shop for Travel Books
Shop for GPS Navigation
See All Guides
Read More Luggage Guides
Get More Travel Tips