Ring Size Buying Guide
by Shawna Edwards
Published April 28, 2010 | Updated June 19, 2015
Jewelry, just like clothing, looks best when it fits well. Jewelry size and shape changes the look of your fashion and enhances your beauty. However, no one looks good wearing a frown -- and poor-fitting rings are annoying, if not actually painful. With the correct size, you'll hardly feel the ring. The first step in learning how to buy a ring is to find your ring size. This guide has the information you need to purchase rings that will fit perfectly.
Find Your Ring Size: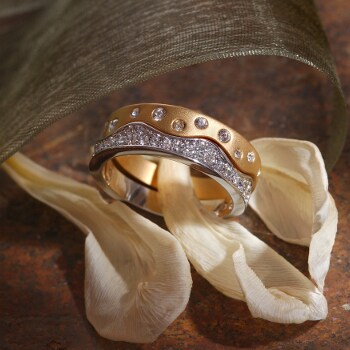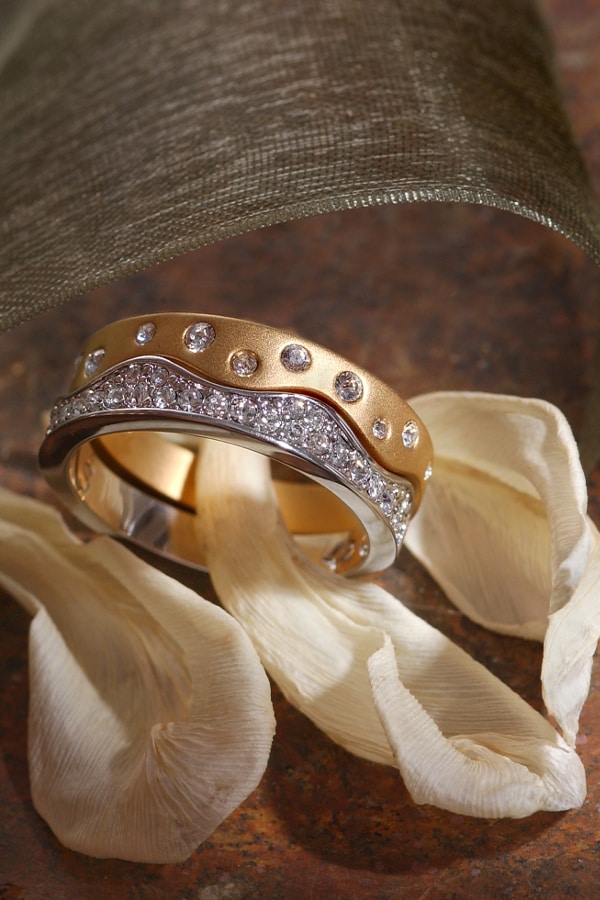 Shop Rings ▸
Print Out Our Ring Sizer

Use our ring size chart to help you measure one of your existing rings. If you have a ring that fits well but you can't remember the size, print out our chart and place it on the circles until you find the one that matches up. Before you print it, make sure you have your printer set to 100 percent. You can place a quarter on the page to make sure that you have printed it out correctly. The ring sizing chart works with a PC or a Mac.

Have a Ring Measured

If you have a ring that fits well, but you can't remember the size, have it measured at a jewelry store or jewelry repair shop. They can tell you what size it is easily.

Have Your Finger Measured

Visit a jewelry store and have a staffer size your finger. Most jewelers have a set of ring sizing bands that resemble men's wedding bands and will help you find your perfect size. This is an especially good idea if you are preparing to purchase expensive jewelry that must last a lifetime, like wedding rings.

Finger Measuring Tips:

Measure your fingers in the afternoon or evening when they are at their largest size.

Cold fingers are smaller than warm fingers.

Many people have different sizes on the fingers of opposite hands, so be certain to measure the exact finger where you plan to wear your ring.

A finger on the dominant hand is often a half size larger than the same finger on the other hand.

If you wear a half size and the ring you want is not available in half sizes, choose the next size larger.

Rings That Can Be Resized:

Plain Bands Can Be Resized

If a ring does not have gemstones or inlaid decoration on the band, or it has gemstones set only in a crown atop the ring, the band can be resized. However, most jewelers will set a limit on the number of ring sizes increased or decreased in order to preserve the jewelry design.

Some Bands with Stones Can Be Resized

Jewelers can also resize many gemstone and diamond rings; it depends on the style of the ring and the skill of the jeweler. Bands with stones set on the shank can usually be adjusted up and down one size. Sometimes a jeweler can resize a ring by two sizes, but usually not more without resetting the stones. It is not recommended that a ring be adjusted by more than one or two full sizes.

Rings That Cannot Be Resized:

Know Which Rings Cannot Be Resized

There are several ring styles that cannot be resized due to their composition or design.

Rings That Can't Be Resized

Eternity band: Resizing an eternity band would require resetting the diamonds in an uneven pattern.

Patterned band: Rings with designs that encircle the entire shank cannot be resized.

Titanium: Titanium, also tungsten carbide and stainless steel, is a very strong metal. It is difficult to alter a finished ring made of these metals.

Flex ring: Rings with flexible bands can only be resized if they have a sopd bar at the back of the shank.

Non-metal band: Jewelers cannot mold and reshape non-metal bands made of materials, such as resin, wood, quartz, and glass.

Invisible setting: This jewelry design creates a solid surface of gemstones by setting the gems into a frame cut into a metal band.

Some Ring Styles Fit Differently:

Rings with Wide Bands

If the band measures 6 to 8 millimeters or more in width, choose a ring that is 1/2 size larger than your standard ring size to make sure the ring will fit. A ring with a wide band has more contact with the finger and is less accommodating in the fit than a thin ring. Some wide rings taper to a slightly narrower width on the shank, but many wide rings are the same width all the way around the band. The rings with a flat band are called pipe-cut or cigar bands and are popular styles for men's rings and for silver fashion rings.

Rings with Domed Bands

This ring style features an arc in the metal at the front of the band, creating a bolder look and a larger surface area for decoration. The area beneath the dome is called the "galley," and it is often hollow. A hollow galley allows more room for the ring to slide onto the finger; therefore, fitting a ring with an open galley does not require choosing a larger ring size. However, if the ring design has closed the galley with the metal or the band has a solid dome, choose a ring in the next half size larger.