Ring Resizing Quick Facts
by Staff Writer

If wedding rings and heirloom rings don't fit anymore or if the engagement ring you love just isn't available in your ring size, a jeweler may be able to improve the ring fit. Sometimes, a cherished ring just doesn't fit correctly. Age, injury, arthritis, pregnancy and weight changes can cause a person's ring size to change over time. It can also be difficult to choose correct ring sizing when shopping. Fortunately, ring resizing will often give you a better ring fit. Consider these jewelry facts when looking into ring resizing.
Facts about Ring Resizing: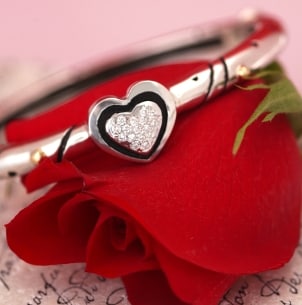 Shop Rings ▸
Plain bands:

If a ring does not have gemstones or inlaid decoration on the band or has gemstones set only in a crown atop the ring, the band can easily be resized. Most jewelers will set a limit on the number of ring sizes increased or decreased in order to preserve the jewelry design.

Bands with stones:

Ring sizing on many gemstone and diamond rings can also be altered, but the process depends on the style of the ring and the skill of the jeweler. Sometimes, a jeweler can resize a ring by two sizes but usually not more without resetting the stones. It is not recommended that a ring be adjusted by more than one or two full sizes.

Eternity bands:

The size and number of diamonds in an eternity band match the ring's circumference exactly. Resizing this popular wedding ring would require resetting the diamonds in an uneven pattern.

Patterned bands:

Rings with designs that encircle the entire shank cannot be resized.

Titanium rings:

Titanium, tungsten and stainless steel are very strong metals. It is difficult to alter a finished ring made of these metals.

Flex rings:

Rings with flexible bands can be resized if they have a solid bar at the back of the shank.

Non-metal bands:

Jewelers cannot mold and reshape non-metal bands made of materials such as resin, wood, quartz and glass.

Invisible settings:

This jewelry design creates a solid surface of gemstones by setting the gems into a frame cut into a metal band. Altering the size of the band could upset the alignment of the frame and the gems.
Ring Size Tip
Our ring size buying guide offers more information about choosing the right ring size.