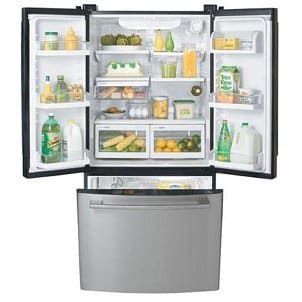 In the world of large appliances, there are many different sizes and types of refrigerators available. Because there are so many options, it is often hard to decide which would be best for your particular situation. A refrigerator is a large appliance that you will use for years and years to come, so consider the following when deciding the type and size of your refrigerator.
Sizes and Types of Refrigerators:

Side-by-side refrigerators: This is the most popular design. They typically have a fridge on the right and a freezer section on the left. Most often, they are available with water and ice dispensers on the exterior of the freezer or fridge door. Although side-by-side refrigerators are quite spacious and can accommodate a large quantity of food, the shelves may be too narrow to accommodate large items and packages.

Top or bottom freezers: These provide almost as much room for food as side-by-side refrigerators, but the wider shelves allow more space for larger items, such as bulk foods or food items with larger boxes.

French door refrigerators: The design is a mixture of side-by-side doors on top and then a slide-out freezer on the bottom. The side-by-side doors open from the center to offer easy access and a better view of the inside of the refrigerator. The slide-out freezer offers easy access and a wider area for large storage containers.

Extra storage refrigerator: Consider getting a refrigerator with 11 cubic feet or less of space to use for extra storage. Usually, extra storage refrigerators do not need to be any larger in size than 11 cubic feet. In fact, compact sizes are often the first choice. These fridges will keep your energy costs down and give you the added space you need for bulk meat items or drinks.
The Right Size Refrigerator for Your Family:

Average family of 3: A 14- to 18-cubic-foot refrigerator should be sufficient for most families of three. When choosing which features you would like, remember to keep your family's eating habits in mind while considering the storage options of the refrigerator. For example, do you need more fresh vegetable storage or more freezer space?

Family of 4 or more: For larger families, an 18- to 22-cubic-foot refrigerator will give you adequate room for all your fruits, vegetables, groceries and freezer items.

Buy Refrigerators
Back to Guides Directory