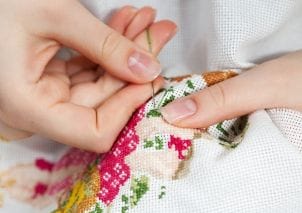 Punch-needle embroidery is a hobby that dates back to ancient times. Many have done punch-needle embroidery as children, which they learned from watching their elders. Unlike other cross stitch and needlework projects, punch-needle embroidery requires punching thread through fabric for the formation of loops for a carpet-like appearance.
About Punch Needle Embroidery:

Embroidery has a long history. The miniature form of punch-needle embroidery, also referred to as bunka or Russian punch needle, had its start in the era of the ancient Egyptians. They were the first to use the technique of punch-needle embroidery via the use of bird's bones in the form of needles. A resurgence of bunka and Russian punch needle embroidery occurred at the beginning of the 20th century because of interest in this ancient art.

Distinctive loops keep it simple. The simplicity of punch-needle embroidery techniques makes this craft easy and fun. The technique involves punching thread through a woven piece of material, creating loops made by the thread on the material's front surface. This gives a carpet-like appearance to the fabric. Making the loops is done by pushing and pulling the thread with the help of a hollow needle. There are many different types of punch-needle embroidery designs, including folk art and contemporary, so finding the right variation and style is easy.

Involve family in needlework. The craft of punch-needle embroidery is valuable because its simple technique allows most anyone to do it. Once you have a basic knowledge of the technique, it is very relaxing and easy to complete any given design or project. The finished product is durable and easy to care for.

Crafts are at your fingertips. With punch-needle embroidery art, you can make many different types of projects such as framed objects, ornaments, pillows or totes. For adding texture, use three different sizes of needles to create elaborate embroidery designs.

Take your embroidery along. The small, compact size of most embroidery patterns makes them very portable. You can pack your embroidery almost anywhere and work regardless of place and time. To make embroidery patterns easier to see when working with dark-colored fabrics, place a white pillowcase on your lap.

Buy Cross Stitch and Needlework Supplies
Back to Guides Directory