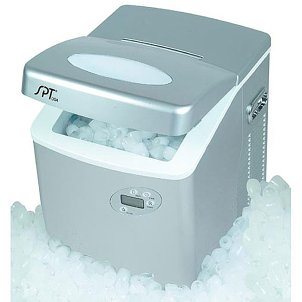 If you've ever had an experience with portable ice makers, you know it's an appliance that is hard to live without after having one. Portable ice makers are a flexible product you can use for several different functions. Whether you want an ice maker machine for your boat, an ice cube maker for your RV or camper or just want a countertop ice maker on your counter to provide you with clean, great-tasting ice, this is the appliance for you. Welcome to the wonderful world of portable ice makers.
Portable Ice Maker Facts:

Sizes: Many portable ice makers come with three settings for three different sizes of ice cubes. Whether you are packing a cooler full of ice or just need some small ice cubes for a refreshing drink, an ice maker machine has you covered.

Variables: All portable ice makers will be slightly different. When you are choosing a portable ice maker, make sure to check the individual features. Some countertop ice makers can make a lot of ice cubes in just a few minutes, while others will take a little longer. Some have a lot of room to store a large number of ice cubes, and others are more compact. Some portable ice makers even have automated touch screens on the front to make operating them as easy as possible. Make sure you pick the portable ice maker that will work for you.

Ice to meet you: When you are throwing a party, portable ice makers are the perfect way to make sure you have plenty of ice for everyone's drinks. Next time you throw a party, make sure to have an ice cube maker around.

It's electric: Most portable ice makers just need to be plugged into a wall outlet and they are ready to go; however, some can operate for a while on batteries so you can take them to picnics or other outdoor events. Just provide the water, and your small ice maker will do the rest of the work. Ice making machines are pretty easy to operate and maintain because most of their functions are completely automated.

Buy Specialty Appliances
Back to Guides Directory