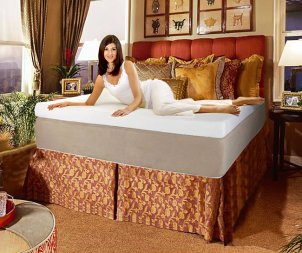 Do you have an uncomfortable mattress that needs replacing? Pillow tops make increasing comfort easy. Your health, energy and happiness rely on the quality of sleep you get, and a stiff or uncomfortable mattress can get in the way of a good night's rest. With pillow tops, you can add an extra layer of coziness to virtually any bed, ensuring that it's a relaxing, refreshing retreat. Pillow tops are an extremely popular bedding option. The soft, luxurious nature of pillow tops makes them the preferred sleeping option in many bedrooms. If you're in the market for new bedroom furniture, take a look at the article below to learn the most popular sizes of pillow tops.
Popular Pillow Top Sizes:

Queen: Queen beds are easily one of the most popular bed sizes, so it's no surprise that queen pillow tops are in high demand. Queen pillow tops are approximately the size of queen beds, which measure in at 60 inches by 80 inches. Though queen pillow tops aren't the largest mattresses available, they do offer plenty of room for two people to sleep comfortably.

Twin: Among single-person beds, twin pillow tops are probably the most popular. Twin pillow tops provide enough room for one person to sleep, which makes them a great choice for children and single adults. Twin pillow tops are approximately 39 inches by 75 inches in size.

King: For massive comfort, it's hard to beat king pillow tops. King pillow-top mattresses offer a large amount of space for two people to stretch out, as they measure approximately 76 inches by 80 inches.

Full: Full-sized pillow tops provide plenty of space for one person, but they can squeeze in two sleepers, as well. These pillow tops are usually about 54 inches by 75 inches in size.

California king: If a large king-sized pillow top isn't quite big enough, think about jumbo California king pillow tops. Though they measure slightly less in width than king pillow tops, California king pillow tops are longer, providing more room for long legs to stretch out. California king pillow tops measure in at about 72 inches by 84 inches.

Buy Pillow Tops
Back to Guides Directory