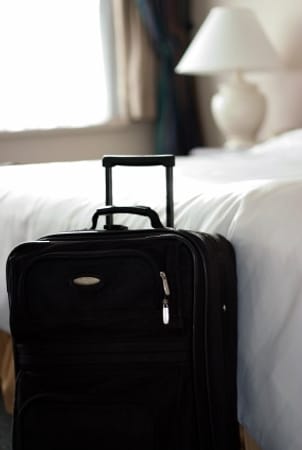 You've done your research and know you want to invest in Samsonite luggage. Now the problem is choosing which of the many collections of Samsonite luggage and bags will be the best fit for your style and method of travel. While the signature quality that made Samsonite famous goes into every piece of luggage it makes, some collections of luggage stand out; these are the series that are the most popular due to their durability, available options and design. If you're interested in buying a quality luggage set, keep reading to learn more about these collections of Samsonite luggage.
Popular Samsonite Luggage:

Cosmolite: The Cosmolite line of Samsonite luggage is a popular lightweight luggage that is also extremely durable. Made with the world traveler in mind, Samsonite Cosmolite luggage uses self-reinforced composite sheets to form its hard shell. These layers of woven polypropylene, called Curv material by Samsonite, are what give these Samsonite bags their durable yet lightweight construction. The Samsonite Cosmolite collection includes various sizes of uprights and carry-ons, which have spinner wheels and locking push-button handles.

Pro 3: As its name implies, the Samsonite Pro line is designed for professional business travelers. These Samsonite bags have fully featured interiors to make your business trips more comfortable, including removable suiter systems, laundry bags and plenty of pockets. Locking telescoping handles as well as padded top and side handles make transporting Pro 3 luggage sets easy, even when they are fully packed. The Samsonite Pro collection includes carry-ons, garment bags and variously sized Samsonite suitcases and uprights. Pro 3 Samsonite suitcases are soft-shell bags, but their ballistic nylon construction makes them resistant to stains from oil, dirt and water; plus, these professional bags have hideaway identification tags so your bags won't get lost.

Silhouette 11: Unlike the two collections named above, the Samsonite Silhouette line offers you either hard-shell or soft-shell luggage, so you can choose the shell you prefer and still get all the features you need from a Samsonite luggage set. These Samsonite bags employ a lightweight polypropylene honeycomb memory frame to protect your belongings from compression, while the Samsonite exclusive tricore-nylon material resists abrasion, punctures and tears. Many Samsonite Silhouette 11 bags include a tri-fold suiter, removable toiletry kit and a 3-1-1 bag for your shampoo and other liquids. This line of Samsonite luggage sets includes various carry-ons, spinner uprights and garment bags. For something more interesting and special, consider the Centennial Edition of the Silhouette line, which takes inspiration from 1950s luggage for a unique and classy look.

Buy Samsonite Luggage and Bags
Back to Guides Directory