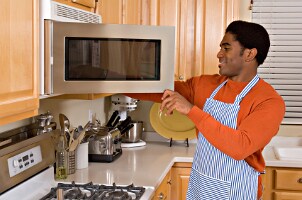 LG is known most widely for electronics, but consumers have been enjoying LG appliances for many years. From LG washers and dryers to LG microwaves, the company has spent years developing a line of large appliances that are energy efficient, durable, user-friendly and affordable, and the current line of LG appliances is better than ever.
LG Appliances:

LG Washer: LG clothes washers offer all the latest trends in washing machines as well as several innovations unique to LG appliances. An LG washing machine is usually a front-load washer, which is more effective at cleaning clothes and gentler on clothes than a top-load washer. If you're interested in a steam washer for your home, you can finding LG steam washers that offer several different energy-reducing settings. In addition to these industry trends, LG washers offer features like a ColdWash setting, which washes with the effectiveness of warm water and the energy savings of cold water, and an Allergiene cycle that helps reduce allergens.

LG Dryer: LG dryers follow the bar set by LG washing machines, offering energy-saving and time-saving features in attractive, reasonably-priced packages. Many LG dryers offer steam drying settings. LG steam dryers use steam to dry your clothes; while that may sound a little counterintuitive, steam-drying dries clothes more quickly and efficiently than standard dryers and feature settings that allow you to sanitize non-washable items or to flash-steam clothes to remove wrinkles. Also, LG washer-dryer combinations are designed to work together to maximize efficiency.

LG Refrigerator: You open and close your refrigerator and freezer countless times each day, so it's important that your fridge not only performs well, but is also as user-friendly as possible. LG refrigerators are designed according to the highest of performance standards and ease-of-use standards. Most LG fridges feature French doors for the refrigerator portion of the unit and freezer drawers on the bottom of the unit, though you can still find traditional LG refrigerators that have a freezer-on-top design. Like other LG appliances, LG fridges come with a number of useful extras, like multiple ice and water dispenser settings and energy-efficient operation.

LG Microwave: Microwaves save you precious time every day by cooking and reheating meals quickly. LG microwaves help save you even more time by featuring easy-to-use, intuitive controls and innovative features on their microwaves. For example, many LG microwaves have warming lamps that keep cooked food warm, so you don't have to take time to reheat the food if you can't immediately pull it out of the microwave. Other LG microwaves can even brown food, making the microwave more versatile than ever before.

LG Oven and LG Range: LG ovens and ranges can help you take your cooking endeavors to the next level. Whether you want a gas oven and range or an electric oven and range, LG ovens offer the kind of power and precision that you want for ambitious dishes to please a crowd and simple meals on the run for yourself. With easy-to-use controls, rapid pre-heating times, fast-boil settings and sleek looks, LG ranges and LG ovens can help make your kitchen more attractive and efficient.

Buy LG Appliances
Back to Guides Directory