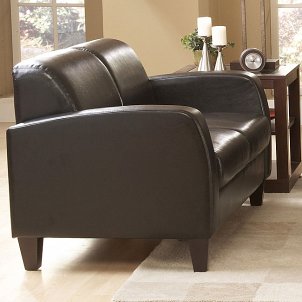 There are a variety of options available when it comes to leather sofas and your living room. You should never feel limited because of your living room's style. A leather sofa is a popular piece of furniture that will fit in most living rooms. With all the different styles of leather sofas and loveseats, you're sure to find the perfect one. By knowing about your different options, you can own the leather sofa you want while staying true to the style of your living room. Keep reading for a list of the different kinds of popular leather sofa styles.
Popular Sofa Styles:

Traditional. Traditional furniture fits best in a formal living room. Traditional leather sofas are made to look like elegant antiques. This type of living room furniture features dark wooden frames covered in luxuriant and richly colored leather. A traditional leather sofa is usually dark red, brown or black in color. They also feature curved lines and some sort of carving or other decorative motif, such as tufting.

Modern. The modern sofa is a direct reaction to the traditionally styled sofa. Modern sofas don't feature any decorations or carvings and are streamlined, simple and sleek. Modern leather sofas sport sharp and straight lines instead of being curved and flowing. They're usually made from light-colored wood or metal and are lightweight. These living room sofas are available in bright and bold colors, perfect as an accent piece for your modern living room.

Casual. This type of leather furniture is perfect for a cozy and inviting living room. You'll have the most comfortable seat in your home when you invest in this plump sofa. Sink into a soft seat and enjoy the friendliness and warmth that your casual sofa offers. This sort of sofa features flared lines, overstuffed cushions and neutral colors. The casual leather sofa is all about comfort.

Retro. Retro sofas favor furniture styles from the past few decades. Usually a leather sofa style can't be considered retro until it's about 15 to 20 years old. This sort of living room furniture is identified through its color and shape. Popular retro colors of today are avocado green, light blue, tan and various shades of yellow. Retro leather sofas do not usually have a pattern on them.

Buy Leather Sofas and Loveseats
Back to Guides Directory