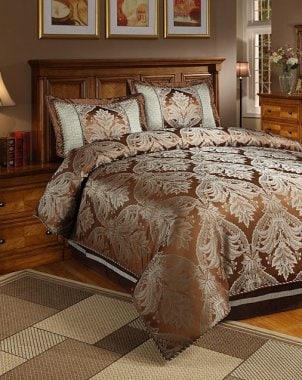 Duvet covers are available in a variety of fabrics and patterns. The right style for your bedroom is a matter of personal taste. When choosing a duvet cover for your comforter, pick out a style that will go well with the furniture and flooring of your bedroom. Duvet covers should also complement the art on your bedroom walls and the window dressing.
Duvet Cover Styles and Fabrics:

Traditional: If you have a very traditional bedroom, choose a traditional plaid or floral print or a solid-color duvet cover.

Children's: For a child's bedroom, there are hundreds of duvet cover patterns in florals and stripes or featuring critters, sports teams and more, all in fun colors to please any child.

For men: For a man's bedroom, solids and subdued patterns in the duvet cover and other bedding lend style and classic masculinity to his space.

Coordinating style: Many manufacturers offer coordinating window curtains for your duvet. Look for these when you select yours, and perhaps choose the bedding in a set which features sheets and cases as well as a duvet cover. While you are shopping for your duvet, be sure to choose accent pillows to complement your bed. Duvet covers may be sold singly or as part of a set of sheets. If you want to decorate without worrying which colors go best together or if you simply like to have your bedding match, choose sheet sets that include a duvet cover.

Cotton: Cotton is the most common material for duvet covers. Cotton can be made into limitless patterns and textures. It is easily dyed, easy to care for, soft and has great breathability.

Blends: Cotton-polyester combines the best of natural and synthetic fibers. These blends -- durable polyesters with soft, breathable cottons -- are ideal for easy-care, no-iron bedding.

Silk: Silk is luxurious, soft and often washable. Silk will take vibrant dyes in the most gorgeous colors and is an elegant duvet cover choice.

Faux suede: Faux suede is usually a polyester fabric which feels and looks like the real suede. Being imitation, it is more affordable and easier to clean than real suede, and it comes in hundreds of colors.

Velvet: Most velvets are polyester blends and washable. This heavier look in a duvet cover may be better for cooler months.

Buy Duvet Covers
Back to Guides Directory