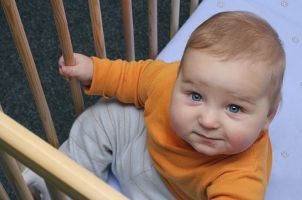 A play yard can be a convenient and versatile addition to your baby gear. When it comes to baby activity gear, a play yard can be the helping hand you need when you need it most. Unfortunately, you can't always hold your baby or keep your baby occupied; sometimes you need both hands and both eyes to get something else done when there is no one else around to help supervise your baby. This is when a play yard can really help you out. A play yard, also called a playard, provides you and your baby with a safe, enclosed space for your baby to play. This play yard buying guide will help you understand the various features and safety precautions so you can figure out how to buy the play yard that will best meet your needs.
Buying a Play Yard:

Bassinets and diaper changing stations: Many play yards come with convenient features like bassinets and diaper-changing stations. A bassinet or diaper-changing station typically attaches to the top rails of the play yard and lies at waist height for easy access. The bassinet and changing station are removable, so your baby can play inside the play yard when you are not using the other features.

Toys and music: Keeping your baby entertained and content is important. If the play yard you choose doesn't come with toys or music, however, you can always add your own. Many play yards have pockets and organizers for toys, books, diapers or a change of clothes. Just make sure the pouches, pockets or organizers are on the outside of the play yard where your baby can't reach them.

Portability: If you plan on moving your play yard from room to room, from inside the house to outside in the yard or taking it with you to grandma's house or on vacation, you will want a lightweight, foldable and portable play yard with swiveling, lockable wheels as well as a compact carrying case. If you're buying your play yard online, it's a good idea to read the reviews on this baby gear to get a feel for its ease of use.

Mattresses: Play yard mattresses are more of a floor mat than a soft, cozy mattress and should not be more than about 1 inch thick. The floor mat should fit snugly in the bottom of the play yard, and there should be no room between the mesh or fabric walls and the floor where your baby could become stuck or suffocate. The safest floor mats are the ones with Velcro attachments that thread through the bottom or sides of the play yard and attach outside the play yard where your baby cannot undo them.
Play Yard Safety:

Suffocation hazards: Play yard mattresses are thin and firm in order to minimize the risk of suffocation. The safest place for your baby to sleep at night is a crib, but if you do use your play yard as a place for your baby to sleep over night, do not pad it with a mattress or any kind of soft blankets, bedding or large stuffed animals. Those things are suffocation hazards. Instead, dress your baby in warm layers before putting him or her down for the night in the playard.

Proper use: Many accidents can be avoided by knowing how to properly use your play yard. If your play yard comes with a bassinet and/or elevated changing-table attachment, never put your baby in the play yard without removing the attachments and leaving them off while your baby is in the play yard. Pay attention to the size and weight limits of your play yard and discontinue using your play yard, bassinet and changing table once your baby has outgrown the size and weight limits or begins climbing out of the play yard.

Wheels and sturdy construction: If the playard you choose has wheels, make sure the wheels have a locking mechanism, especially if you have wood floors or older children who might try to take the baby for a ride. It's also important to make sure the playard you buy is sturdy and solid. You wouldn't want it breaking or folding on your baby.

Buy Play Yards
Back to Guides Directory