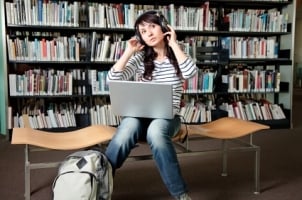 One of the best things about laptops is their portability; with a computer backpack, you can capitalize on that quality and take your computer with you everywhere you go. Of course, first you need to have somewhere to go. Never fear; there are plenty of places to take your laptop and computer backpack. Use these ideas to explore your options and come up with your own unique places to take your laptop backpacks.
Places for Computer Backpacks:

Bookstores and libraries: Use your laptop backpack to take your computer to the city or school library or your favorite bookstore. Libraries and bookstores are the perfect places to do research for school assignments or work projects, or even for your own projects. Are you writing poetry or a novel? Laptop cases will help you take your laptop to the perfect place to read inspiring words and work on your own writing. Maybe you're working on your family history; libraries often have access to genealogical resources that individuals don't. Rolling laptop backpacks and laptop cases will often have enough room to safely cradle your computer and hold the binders and papers with information about ancestors you already have so you can learn more about your family tree. Taking your computer to the library or bookstore also allows you to use their free Wi-Fi to read reviews and compare prices on the books you're interested in.

Coffee shops and parks: Take your computer bags to coffee shops and parks for a more relaxed atmosphere. Many coffee houses have free Wi-Fi, so you can check your e-mail and read the news on the Internet while you drink your morning coffee. Laptop bags can also hold your favorite book or the newspaper if you decide to switch media while you're there. Another place to take your computer backpack and laptop bags is the park or playground. What could be better than sitting at the foot of your favorite shade tree, playing solitaire or reading an e-book while you wait for your kids to get out of school or finish playing? The best laptop backpack will easily transition from coffee shops to parks.

Work or school: Computer bags can help you take your laptop to work or school, too. The best laptop backpack for school will be able to hold your computer as well as the textbooks and notebooks you need for class. Look for computer backpacks with features like removable laptop sleeves for extra padding and organizer pockets for pens, erasers, calculators and other school supplies. Leather laptop backpacks are great for taking your computer to work; the leather is a classic look of professionalism, and leather laptop backpacks can hold everything you need for work.

Travel: Nothing keeps you occupied like a computer when you're traveling. Commuter trains and express buses often have Wi-Fi and outlets for you to use. Working on documents or playing games on your laptop can make a long ride on light rail, city buses or airplane flights go by faster. Nothing beats a rolling laptop backpack when you have to fly to business meetings or for a long trip; you have the option of wearing it on your back or pulling it behind you, and the wheels can make navigating a busy airport with other luggage in tow a bit easier. Airports often have free Wi-Fi, too, so you'll have something to do while you wait for a taxi, shuttle or family member to pick you up.

Buy Laptop Backpacks
Back to Guides Directory