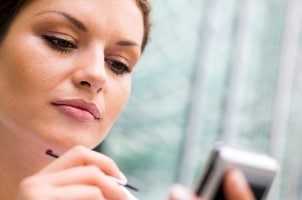 You don't necessarily need a calendar, an address book, a notebook and a briefcase full of files in order to be organized. All of your contacts, appointments and work files can now be at your fingertips with a handheld PDA. The PDA has become an irreplaceable organizing and communicating tool for both work and personal use. This PDA buying guide will walk you through the basics you'll want to consider when shopping for the best personal digital assistant for your needs.
Buyind a PDA:

Operating systems: The operating system software on your PDA smartphone is a key feature which will determine how you'll manage files between your PDA and computer, set communication options and organize other software on your PDA. Palm OS and Pocket PC operating systems have been the most popular in the past, but Windows Mobile, Android and Mac iOS have also achieved wide usage with PDA owners. Third-party software developers have created software applications for all of these operating systems. You'll want to check the compatibility of each OS with your computer's OS and other devices you plan to use with your handheld PDA. Also, make sure the software you want to use is available for that OS.

Basic functions: Some features are common to most basic handheld PCs. Nearly all systems will have an alarm clock, calendar, address book and calculator and notebook functions. PDA phones nearly all include voice-memo recording options as well as normal phone functions, like text and media messaging. A built-in camera with at least several megapixels is also common.

Office applications: Word processing, database and media software packages are also available that are compatible with different operating systems.

Data entry: The way information is entered onto a PDA varies by model. Your control type will largely be based on your preference, but each technology has its advantages.

Control Types

Keyboard: Many handheld PDAs use a full QWERTY keyboard. If your PDA phone includes a touch screen, the QWERTY keyboard may be replaced by a virtual keyboard.

Touch screen: A touch screen gives you more unique control options, including multi-touch control for manipulating windows and programs. If your operating system supports handwriting recognition, you may be able to write by hand on your touch screen with a stylus.

Trackball: Instead of a mouse or touch screen, your PDA may include a small trackball embedded into the keyboard.

Wireless: Bluetooth, IrDA and Wi-Fi allow handheld computers to communicate with each other without a cable connection. Look for handheld PDAs with Bluetooth and Wi-Fi that are compatible with your home Wi-Fi network and other Bluetooth devices.

Web connection: E-mail and Web-browsing usually require a data plan through your wireless carrier to avoid costly data charges. Many PDA phones include Wi-Fi connectivity, also, which allows you to connect to the Internet through a home or office wireless network.

PDA memory cards: Most pocket computers also have slots for additional memory, allowing you to expand your available storage for files, photos and applications. Each PDA will accept different memory cards, but MicroSD, MiniSD, Memory Stick and Compact Flash cards are all common.

PDA cables: Nearly all PDAs can be charged via a connecting cable or adapter. USB cables are the most common connector type between your handheld PDA and your computer because they charge and transfer data as well. These PDA accessories are essential for synchronizing your PDA and PC data with one another. Your PDA model may also be compatible with a docking station or PDA cradle that performs the same functions.

Entertainment features: Depending on installed software, your PDA handheld may playback audio such as MP3. A large screen is also useful for watching movies and playing games. Some models may even feature video-out options, such as an HDMI-out port, which allow you to play movies through your handheld on an HDTV.

GPS: GPS is making its way into more and more PDAs and smart phones, providing you with directions, live traffic updates and allowing you to search for nearby businesses and addresses.
Ideas from Overstock.com:

Protect your PDA with a durable case. A clamshell case can help keep your PDA screen from getting scratched, while a crystal or silicone skin will protect against drops and other impacts.

Charge your PDA wherever you are with a car charger. An international power adapter will help you keep your handheld powered, too, even outside the country.

Buy PDAs
Back to Guides Directory