Patio Umbrella Buying Guide
by Staff Writer
Published April 28, 2010 | Updated June 11, 2015
You've furnished your patio with new patio furniture, but you aren't done yet. Not all decks and patios are perfectly shaded, and you can't always set up your outdoor furniture under shade-giving trees. Protect yourself and your family from the sun with patio umbrellas and shades. Buying patio umbrellas is easy when you know what to look for.
Buying a Patio Umbrella: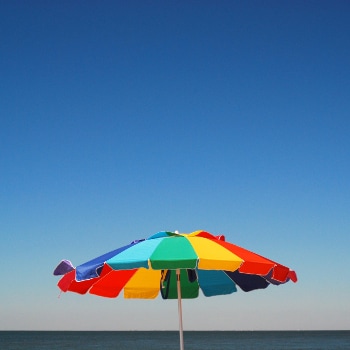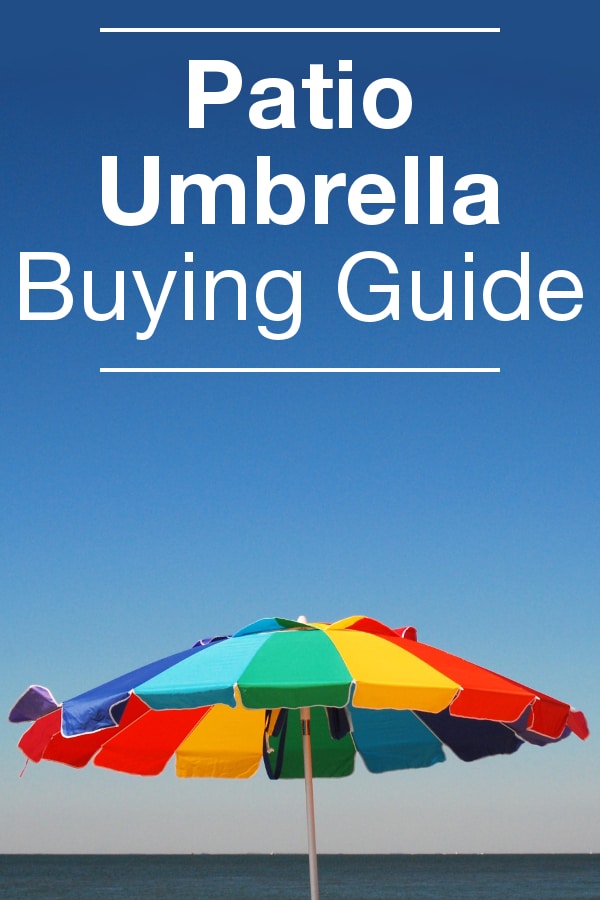 Shop Patio Umbrellas ▸
Choose Fabrics Made for Sunshine

The fabrics used on patio umbrellas needs to be weather-resistant and UV-resistant. Patio umbrella fabric comes in many colors and patterns, both bold and fun. Breathable fabrics are a good choice; they stay cool, even under the hot sun. Most umbrella fabrics are colorfast and resist mold and mildew.

Consider Tilting Umbrellas

The sun doesn't always stay directly overhead to be blocked by your umbrella. Especially in areas where the horizon is flatter or where there are no large structures to block the sun, the sun will strike the patio early and stay later. A tilting patio umbrella can be adjusted with the movement of the sun, so you can have shade at any time of day, and you won't need to move your table and chairs to chase the shade. Tilts come in a few varieties: buttons at the top of the umbrella, in the frame underneath the rib hub, or in conjunction with crank handles.

Table vs. Free-Standing Patio Umbrellas

Table umbrellas and free-standing umbrellas both need stands; generally, through-the-table umbrellas can use a lighter base since the table will provide some support. Free-standing umbrellas will need a heavy stand to keep them upright. Offset patio umbrellas will need a stand that provides more than just weight; you will need to counterbalance the weight of the offset canopy. A three-point or four-point stand is a good choice.

Choose the Right Size

Consider how much shade you actually need and how much space you have for an umbrella.

Patio Umbrella Size
What It Will Cover
4-foot to 6-foot
30-inch bistro table set
One or two patio chairs
7-foot to 8-foot
36-inch bistro table set
A pair of lounge chairs
9-foot to 10-foot
48-inch dining table and four chairs
A small patio seating set
11-foot
60-inch to 72-inch patio table with six chairs
A full patio seating set

Learn about Patio Umbrella Poles

The average height of a patio umbrella pole is 8 feet. Some can be taller, but most you'll find will be about 8 feet tall. A few umbrella poles may be curved or offset to hang the patio umbrella over an area without a pole being in the way of the outdoor furniture or activity in the area. Most offset umbrella poles will still set the umbrella about 8 feet above the ground.

Don't Forget about Umbrella Stands

Even if you think you have good enough support from your patio table, an umbrella base is still recommended. Bases hold your patio umbrella straight and protect it from gusts of wind. For large 10-foot to 11-foot umbrellas, look for the largest umbrella base you can buy. These umbrellas need as much support as you can give them. Cast-iron bases are a good choice for weight, but resin compounds also do a good job.

Consider a Contemporary Alternative

Shade sails, also called sunsails, are large shades of weather- and UV-resistant fabric that stretch across poles, trees, or the house. They are perfect for adding a lot of shade to a poolside patio, a back yard, or open deck. The most popular shade sails are shaped as rectangles, squares, or triangles. Shade sails can be small, but most begin at around 9 feet and can be as big as 20 feet. Most available online will include the mounting accessories, such as hooks, pad eyes, webbing, or other fasteners. The fabrics share much of the same qualities as umbrella fabrics but usually come in more subdued colors, like neutrals and solid colors.