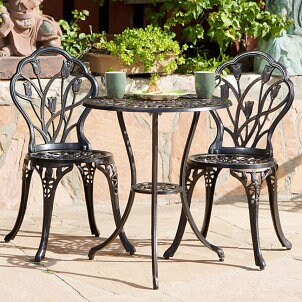 Life relaxes outdoors and patio furniture helps you slow your pace with new designs in outdoor chairs, benches and other great patio garden furniture. What could be more calming than snoozing in an Adirondack chair at a Cape Cod cottage? Perhaps catching rays in a poolside chaise lounge or swinging in a hammock under your favorite shade tree defines summer for you. This patio garden furniture buying guide will help you sort through your options in casual outdoor furniture.
Patio Garden Furniture Options:

Patio garden chairs: Outdoor chairs form the base of any outdoor sanctuary. Casual garden chair styles include loungers, folding chairs, outdoor rocking chairs and Adirondack chairs. The "chaise longue" (/sheyz lawng/: French for long chair) has an elongated seat and leg rest and an adjustable back, great for relaxing in the sun or by the pool. The Adirondack chair, designed in New York State in the early 1900s, features wood planks, deep seats, fan backs and wide arm rests. Adirondack style is found in other patio garden furniture such as benches, rockers and porch swings. This style of patio garden furniture is often brightly colored and creates a cheerful summer atmosphere.

Outdoor benches: Outdoor benches provide cozy patio garden seating for two or more people and the occasional furry companion. Place one in the garden or yard, so you'll have a place to relax while admiring your green thumb. Adirondack benches painted in bright colors add a cheerful accent, and long benches accommodate extra party guests. Contemporary aluminum patio benches update patio garden furniture, either alone or as part of a patio set. A storage bench has either drawers or a lifting seat to accommodate your gardening tools or pool supplies. A tree bench wraps around your old oak to form a shady seat.

Hammocks and swings: For the ultimate in afternoon snoozing, drop your weary body into a hammock. Today's models feature more durable designs and materials than ever. Buy a hammock stand and you won't even need trees for your portable bed. Hammock chairs are a variation on the classic hammock. Stands are also available for those, too. Most porch swings still require chains to suspend them from a roof or stand, which somewhat limits their placement. A glider is a good alternative when you don't have a place to hang a swing.

Buy Patio Furniture
Back to Guides Directory