Patio Chairs Buying Guide
by Staff Writer
Outdoor living and dining has become the definition of the good life, and to enjoy it, you need patio chairs and other patio furniture. With so many patio chairs to choose from, you may feel a bit overwhelmed at the prospect of furnishing your garden and patio. Fortunately, this patio chairs buying guide will walk you through your options so you can sit back and relax that much sooner.
Buying Patio Chairs: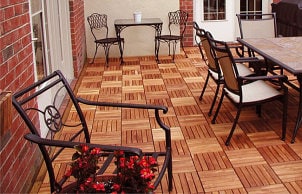 Shop Dining Chairs ▸
Material:

Outdoor furniture comes in a variety of materials, each with its own distinct look, pros and cons. Wood patio chairs are always a classic choice; choose from several stains and finishes to match your patio table and accentuate the natural. Most woods will develop a patina over time, and wood patio chairs generally handle weather well. Metal patio chairs are more formal than wood chairs, and they are usually heavier and more stable, making them great for windy locations. They can rust, however. Patio furniture made of plastic and PVC is lightweight, low maintenance and easy on the budget, but it can mildew in wet conditions. Wicker or rattan patio chairs are the epitome of casual, but they can also mildew. Some patio chairs have a frame of one of these materials with the back and seat made of fabric or mesh; these chairs make excellent poolside chairs and give your patio a unique look.

Features:

When you're online shopping for patio chairs, consider the variety of features available. Some patio chairs, especially those made of synthetic materials, are easily stackable; this is a great feature to look for if you can't or don't want to leave your patio chairs outside all summer. Folding patio chairs are also very convenient for storage and for moving the chair around. Many patio chairs have arms, but plenty do not; choose whichever style you like best. Some patio chairs are more like bar stools; these are great if you have an outdoor bar or a high cafe table. Other features to consider include swivel and rocking motions. These chairs are perfect for simply relaxing outside; buy a few and arrange them around a patio coffee table for an outdoor conversation space.

Number:

The number of patio chairs you need is entirely up to you. You may only need a few patio armchairs for a relaxing outdoor living space, a set of patio dining chairs for your outdoor dining table or a mix of both. You can purchase patio chairs individually or in sets of two or four. If you need patio chairs for dining outdoors, consider buying a patio dining set with matching table and chairs.

Use:

How you plan to use your new patio chairs will determine what style of chair you should buy. For dining, choose patio chairs with flat seats and straight or nearly straight backs; arms and other features are optional. Because most dining tables are about 28 to 30 inches tall, make sure the seat of your patio chairs is about 18 to 20 inches tall. If you have or want to set up an outdoor bar, patio bar stools are the way to go. Certain design of patio chairs are great for sitting by the pool or simply relaxing. Poolside chairs may have fabric or mesh seats or spaces between the slats so the water from your swimsuit can dry off without collecting on the chair. Good poolside patio chairs may also be adjustable so you can stretch out instead of sitting straight up, or they may have other features, such as swivel seats. Relaxing patio chairs almost always have arms.

Tip from Overstock.com

Once you find the perfect patio chairs and other outdoor furniture, check out our selection of outdoor cushions and pillows to make your outdoor seating even better. These cushions and pillows are made to be easy to clean and to resist fading, so you can add comfort and style to your outdoor living space.