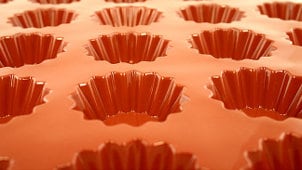 For over 80 years, Paderno has been a leading company in the manufacturing of professional cookware and kitchen utensils. Now you can have commercial-grade tools of the trade to use in your own home. This Paderno World Cuisine bakeware buying guide will help you discover which Paderno World Cuisine bakeware products are best for you.
Silicone Bakeware Molds:

Traditional molds: Regular muffin molds and round cake molds are always popular, and Paderno World Cuisine silicone bakeware offers you lots of options. Buy two muffin molds that make four, six or eight standard muffins so you can have two batches going at the same time. Silicone molds that make lots of mini cupcakes are popular, and round cake or quiche molds are staples of a baker's kitchen.

Seasonal molds: Leaf-shaped muffins and cupcakes are perfect for Thanksgiving and as treats all through autumn. Who wouldn't be happy to receive a heart-shaped cupcake for Valentine's Day or their anniversary? Silicone cake molds have seasonal shapes, too; a jack-o'-lantern cake might just become a new Halloween tradition.

Decorative molds: Try a muffin mold that creates muffins in the shape of daisies, hearts, stars or doves; these make perfect treats for parties or to share with a friend. Paderno World Cuisine silicone bakeware also has tons of great molds specifically designed for brioche, quiche and tarts of all kinds.

Why you want Paderno silicone bakeware: Silicone bakeware has a nonstick finish that guarantees perfection every time: No more greasing and flouring your pans, adding needless calories, and then coaxing your cakes, breads and muffins out of a pan with a knife. With Paderno World Cuisine silicone bakeware, your baked goods will slip out perfectly with ease. Plus, silicone bakeware can handle temperatures ranging from -40 F to 500 F. Bakeware molds made from silicone feature even heat distribution plus quick cooling in only a couple minutes.

Chocolate Molds:

Seasonal molds: Make your own chocolate bunnies and eggs for your children's Easter baskets, give homemade chocolate Santas to your neighbors at Christmas and make spooky skeletons for a Halloween party. Whatever season or holiday you want to make chocolate candy for, Paderno World Cuisine has the molds you need to make them.

Animal molds: From sweet ducks that would be perfect for a baby shower to ferocious lions that would be a delight at a child's birthday party, Paderno World Cuisine has an animal-shape chocolate mold for you.

Traditional molds: When you're making traditional chocolate treats, you want the traditional shapes, like round truffles or domed cherry cordials.

Decorative molds: Why buy premade cake decorations when you could make your own out of delicious chocolate? Use chocolate letters to spell out Happy Birthday or make pretty flowers and seashells to accent a batch of cupcakes.

Why you want Paderno chocolate molds: Paderno World Cuisine polycarbonate molds are specialty bakeware that produce professional-grade chocolate every time. Because of their superior durability and ability to withstand heat, polycarbonate molds are the best in the business for making chocolates with a beautiful, high-quality finish. The smooth polycarbonate surface helps molded chocolate candy look glossy and perfect. Polycarbonate chocolate molds are easy to clean, and when they are properly cared for, they will last for many years.

Buy Paderno World Cuisine
Back to Guides Directory