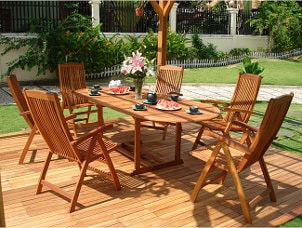 Whether you're enjoying margaritas and watching the sunset or hosting a backyard barbecue, you'll want to make sure your patio table and chairs are looking their best. With the proper care, your wood patio furniture can look great and last longer. Here are a few steps to keep your wood furniture looking its best.
Caring for Wood Patio Furniture:

Protect your outdoor wood furniture from damaging sunlight. UV rays can bleach the wood, destroy finishes and cause dryness and cracking. To prevent damage from the sun, make sure your furniture is never in direct sunlight. If it is in an enclosed patio or a sunroom, you can use blinds, shades or UV window protection to keep the sun from directly shining on the wood. Otherwise, try placing the pieces under the natural shade of trees or underneath a large patio umbrella.

Put your outdoor wood furniture in storage for the winter. Winter sunlight can damage wood just as easily as it does in other seasons. Snow and cold temperatures can cause the wood to dry and crack. Store your patio furniture in a garage or shed where it will be protected from the elements and extreme temperatures.

Use waterproof covers or keep patio furniture under awnings or roofs. Wood absorbs moisture, and if water permeates the wood, it can break down the wood grain, causing damage and cracking. If you live in a wet or humid area, be aware of changes in the weather and move or protect wooden outdoor furnishings.

Finish your furniture with a product that will help it retain moisture. If you live in a very dry place, your wood will shrink and eventually split from the lack of moisture. Natural oil, such as teak oil, will condition your furniture on the inside and allow it to live in dry weather longer.

Wash your outdoor tables and chairs with a wood cleaner two or three times a year, or more if needed. Dirt, pollen and even air pollution can have a damaging effect on your wood furniture. Dirt and grime can get stuck in the finish, and can even break down the wood itself. Make sure to completely dry the furniture to keep water spots from permanently staining the finish.

Don't forget to do occasional maintenance to keep patio furniture looking and functioning at its best. Frequent use can loosen hardware, so make sure to tighten the screws at least once a year. When the finish starts looking dull or damaged, gently sand it down and refinish your furniture. This will help protect it from the elements.

Buy Patio Furniture
Back to Guides Directory