Outdoor Lighting Buying Guide
by Staff Writer
Adding ambiance, interest and security to your home can be as simple as adding outdoor lighting. The wide variety of outdoor lighting options available can make finding the right garden lighting a bit tricky. Fortunately, this outdoor lighting buying guide can help you determine the best outdoor lighting for your yard; when you know what your options are and what overall effect you want your garden lighting to achieve, buying the right outdoor lighting is easy.
Buying Outdoor Lighting: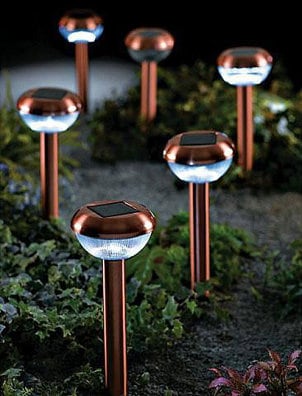 Shop Garden Lighting ▸
Garden lighting:

Lighting for decoration adds to the value of your home and illuminates the areas wherever you gather with family and friends, whether porch, patio or garden, even as the sun goes down. Garden lights can make any patio or garden a romantic place filled with interest, perfect for gatherings.

Landscape lighting:

Landscape lighting is all about showing off your garden, lawn and all the interesting features that make it a beautiful yard. Landscape lighting gives your yard visual interest and makes it more unique and easier to find in the dark.

Security lighting:

Security lighting brightly lights a large area of your yard for safety. Security lights are made to discourage trespassers and provide enough light to safely maneuver in the dark with your car or while walking. Make sure you aim your security lights onto areas that may need a bit of extra protection. Aim them at the garage, side yard and back door, but make sure they are not aimed at neighbors' windows. Look for security lighting with sensors or timers. Timers will automatically turn security lights on and off at certain times of the day. Security lighting can also be used to give you light to finish working outdoors after the sun sets.

Mushroom lights:

Add ambiance to any area of your garden with mushroom outdoor lights. Mushroom lights, also called scoop lights, are usually mounted on stakes or posts. They have a mushroom- or scoop-shaped hat, hence the name. The hat helps reflect and spread the light over the ground, instead of in people's faces. Mushroom lights are commonly used as path lights and make great garden lights.

Tiered lights:

Similar to mushroom lights, tiered lights are shaped like a pagoda and mounted on stakes. They are decorative, with several layers of tiered hats. Deflecting light back toward the ground, they are great for walkways and paths. Tiered lights are also known as louvered lights. Path lights like mushroom and tiered lights are also great for landscape lighting.

Sconces and wall lights:

Perfect for areas with large wall spaces, sconces and wall lights can light the surrounding space. Add sconces and wall lights to outdoor stairways, exterior walls or anywhere you want to bring attention to the architecture of your home. Sconce lights come in a variety of styles and mount on a wall.

Recessed lights:

Light up your patio or deck with recessed lights. Recessed lights are mounted on or buried into the deck. They reflect light upwards from the floor area and are usually mounted near built-in benches, stairs and low walls.

Backlights:

Also known as uplights, backlights are a popular landscape lighting option. These outdoor lights are mounted on the ground to give a sense of depth to your landscape. Backlights are often placed behind plants or other objects to illuminate an object, meaning they can cast interesting shadows on a wall or highlight a grove of trees. Backlights should be hidden from view and aimed at whatever you want to draw attention to.

Downlights:

Downlights are the opposite of backlights and are intended to cast light down on an object and give a natural lighting effect. Like other landscape lighting, downlights should also be hidden from view.

Floodlights:

For security lighting, fill your yard with light from a floodlight. You can continue working on outdoor projects long after night has fallen or you can include a timer or sensor to deter trespassers, including animals.

Spotlights:

Also very bright, spotlights can be used for landscaping purposes as well as security. Draw attention to a large tree or use with a motion sensor to trigger spotlights if an area is breached.

Specialty outdoor lighting:

Illumination shouldn't be limited to decks, patios and walkways. Light your pool or water features with underwater lights. Give trees, bushes and gazebos twinkling style with party lights and string lights such as paper lanterns and Christmas lights. Celebrate outdoors late in the evening with garden lanterns and garden torches. Lanterns can be hung from trees or hooks, while torches can be mounted on stakes or tabletop stands. Specialty lighting is usually a temporary addition to your outdoor lighting, but some can be mounted permanently so you can always enjoy the atmosphere made by these versatile lights.
Tip from Overstock.com
If being environmentally friendly is important to you, invest in outdoor solar lights. Lots of path lights, decorative lights and even address plaque lights are powered by the sun. Place solar lights in parts of your yard and garden that receive lots of direct sunlight so they fully recharge.