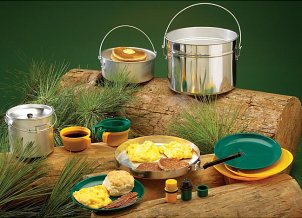 Every pound counts when you are on a hiking trip, so you'll want outdoor cooking equipment that won't slow you down. When you go hiking, not all outdoor cooking equipment or outdoor grills will do the job. Although perfect for other camping situations, most outdoor gas grills won't work for hiking, and a dutch oven is completely out of the question for a backpacking trip. After a few miles, you'll probably regret packing just any old cooking gear you had on hand. When you go hiking, make sure to take camping cooking equipment designed with backpacking in mind. Here are a few items you shouldn't forget on your next backpacking trip.
Hiking Cooking Equipment:

Lightweight camping stove: If you plan on cooking anything on your trip, you'll want to pack a camping stove. There are plenty of low-weight options to choose from. Some camping stoves are foldable, so you can fit them into a small canvas bag. When you want camping cooking equipment for hiking, make sure you find a camping stove you won't mind toting around and that is easy to set up and put away. Also, be sure to choose a camp stove that runs on a lightweight, fuel such as white gas or a butane-propane mix.

Lightweight mess kit: A mess kit is indispensible whether you need campfire cooking equipment or something to support a gas stove. Most mess kits come with one or two cooking pots, a plate or two and a bowl/cup. If you want to save on weight, pick out a titanium mess kit. Not only is it lightweight, it is very strong to withstand the rigors of hiking.

Cleaning kit: Although you can buy them separately, you can usually put together a cleaning kit on your own with just a small rag and brush. As you are on your trip, you'll want to make sure you clean your outdoor cooking equipment after every meal. Keeping camping cooking equipment well maintained during your trip will save you time when you get home and extend the life of your items. You can pack a small cleaning kit without taking up much space or adding nearly any weight.

Buy Cooking Equipment
Back to Guides Directory