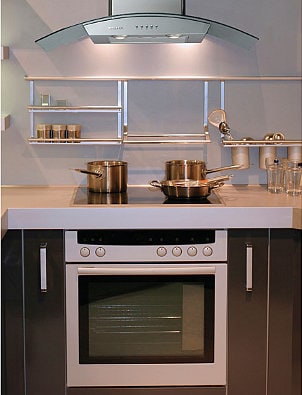 Online shopping has come a long way; buying large appliances online is becoming more popular every day. With manufacturers and retailers offering the same products online as they do in the showroom, online shopping can make shopping for major appliances a simple and stress-free task. Convenience has become the marketing strategy for online retailers. The best online shopping tips streamline the process of buying appliances. Use these online shopping tips to purchase large appliances with ease.
Buying Large Appliances Online:

Measurements: Being prepared to take measurements is the best shopping tip. When online shopping for almost anything, you'll need to have a list of measurements handy and to check product descriptions thoroughly to know what you are buying. When you're buying appliances, be sure to measure the depth, width and height of the space available for the new appliance. This is especially important for kitchen appliances because you have to take cabinets and countertops into consideration. Measure your current major appliance if you are looking for a replacement. Be sure to write these numbers down. If you are shopping for a replacement, you can search for appliances online by model name or number. Searching makes home appliance shopping even easier.

Budget: Having a budget is always a good shopping tip. Decide how much you are prepared to spend on your new appliance. Price is an important tool for narrowing down your search, especially when you're home appliance shopping online.

Bargains: The Internet is very valuable when you are looking for bargains because it gives you such a wide range of shopping options. It is very convenient to compare large-appliance prices online. Start with the Websites of top-brand manufacturers. Once you have all the information about what you want, how much it costs and the specifications and features, search bargain sites that offer brand-name appliances online at a fraction of the cost.

Shipping costs and returns: Be sure to check the shipping charges and the return policy before you buy. Some sites offer "scratch-and-dent" prices, but the products are sold "as is" and cannot be returned. Refurbished home appliances are another option for those on a budget, with the added benefit of being returnable. Buying a scratch-and-dent or refurbished large appliance could save you hundreds of dollars.

Buy Large Appliances
Back to Guides Directory