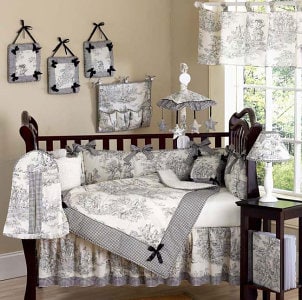 Whether you're looking to buy a complete nursery set or piecing one together from heirloom baby furniture, you'll want to make sure your nursery set includes everything you'll need for your little one. Start shopping for your nursery set early so you'll be sure to be ready for baby when she arrives. The following checklist will help you find all the baby furniture you need for a complete nursery set.
Nursery Set Furniture Checklist:

Crib: The crib is the most important piece of furniture you want to include in your nursery set. Since babies sleep, on average, 16 hours a day, having a crib for your baby to safely sleep in is an absolute necessity for the nursery. Cribs come in a variety of styles and designs, however, you'll want to avoid drop-side cribs since they were banned by the U.S. Consumer Product Safety Commission. Choose a crib for your nursery set that appeals to both your style and your safety concerns, with all the features you're looking for.

Changing table: A changing table is a nursery staple that no parent will want to go without. A good changing table will have a solid, level surface to lay your baby on and plenty of drawers, shelves, or baskets to store diapers, wipes, and even a change of clothes for extra messy diapers.

Dresser: A dresser is a must-have piece of baby furniture for any nursery set. With plenty of drawers to hold your baby's clothes and toys, a dresser helps keep the nursery clean and organized. The top of the dresser is a common place to display picture frames and lamps, and is also a popular spot for the baby monitor.

Bassinet or cradle: While not every nursery set automatically includes a bassinet or cradle, they are essential for the newborn baby. Bassinets and cradles are smaller than a crib, nestling a tiny baby close. They're also portable, allowing you to move them from your own room to the nursery when your baby is ready to move to her own room. You'll want to look for a nursery set that includes a bassinet or cradle, or buy the matching piece along with your nursery set.

The extras: While the nursery set you've chosen may not come with a rocking chair, nightstand or hamper, you may want to look for the matching pieces to purchase along with your nursery set. Having a fully equipped nursery will help both you and your baby be comfortable in the room.

Buy Baby Furniture
Back to Guides Directory