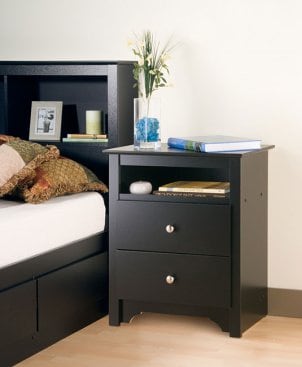 To create a balanced atmosphere in your bedroom, finding the right nightstand is essential. A nightstand is an end table for the bedroom. In almost every case, it stands beside your bed as a useful space for storing and displaying the things any good end table might: a table lamp, an alarm clock, a book or magazine, a pair of glasses, a small plant, a drinking glass, a framed picture. All night stands are built with your basic bedside requirements in mind, but there are important distinctions in nightstand utility and style. Luckily, this nightstand buying guide gives you all the information you need to determine how to buy a nightstand that brings you closer to the bedroom of your dreams.
Buying a Nightstand:

Height: Match your nightstand height to your bed. It almost goes without saying, but the most overlooked part of buying a bedside table online is the bed. A low-profile platform bed needs a low nightstand whereas a tall sleigh bed would do better with tall nightstand. In any case, your nightstand height should ideally fall within a few inches of the level you sleep at.

Area: Nightstand table area is another issue. If your bed is in the corner but sleeps two, find a single nightstand with room enough for both of you. If you're interested in the sleek, pared down look of a small nightstand, but you're wondering how to make best use of its diminutive size, move lighting and framed photographs to the walls to keep your nightstand uncluttered.

Materials: Whether your nightstand matches your bedroom set or makes an interesting accent piece, the nightstand material is important, and all wood nightstands are not created equal. Your wooden nightstand's species, finish and color have a big impact on the feel of your bedroom's dimensions and space. Contemporary nightstands are accented with modern metals, like polished chrome and brushed stainless steel. Traditional nightstands and antique nightstands are distinguished by brass and antiqued iron hardware.

Color: As you consider one piece or another, keep in mind this color palette rule of thumb: Dark colors absorb light while light colors reflect it. That means that a black nightstand or walnut nightstand will tastefully anchor a bright room with a lot of light while a white nightstand, oak nightstand, maple nightstand or cherry nightstand will add brightness to an otherwise dark room. Metal nightstands are less common, but a polished, reflective metal surface can fulfill the same space-enhancing principles of a white nightstand. That goes for mirror-top nightstands as well.

Storage space: If the idea of tucking everything from your wristwatch to your television remote control into the bedside table at night appeals to you, then make sure your nightstand has plenty of drawers. Be on the watch for nightstand drawers and cabinets with personality; that includes small storage for your bedside jewelry, mid-level storage for your underclothes and large-scale storage for sheets and linens.

Part of a set: It's a smart move to get nightstands that are part of a bedroom set. A strong, cohesive furniture set lets you take full advantage of your other decorating items. If you prefer to mix and match your bedroom furniture, then it's a good idea to at least purchase a matching pair of nightstands, no matter how far they stray from your other bedroom furniture.

Buy Nightstands
Back to Guides Directory