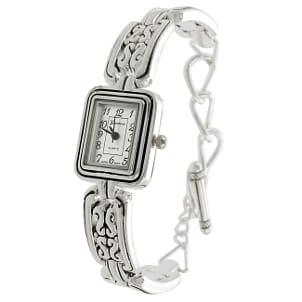 Maybe you've never considered looking at watches for sale because you don't think they match your style aesthetic. Maybe you're shopping for an updated watch to replace your classic accessory staple. Either way, you're sure to find something you love with the latest watch styles made to reflect both the current trends and your unique personality. Keep reading to find out all about the new trends in watches for sale, so you can pick the watch that best suits you.
New Watch Trends:

Antique watches. What's old is new again with stylish antique-inspired watches. Mother-of-pearl inlay and aged silver faces are the defining characteristics of these sophisticated timepieces, but there are many options to choose from. Several current watches for sale feature antique styling, so it's easy to pick out one that fits your personality. Try an antique watch if your style calls for a unique accessory or you have an appreciation for all things old-fashioned.

Silicone watches. Don't be scared away by the word "silicone," as these watches are anything but phony. For a sports watch that moves with you and won't be damaged by the elements, try a silicone watch. Silicone watches are generally brightly colored and allow you to add a splash of playfulness into your jewelry wardrobe. The addition of crystals or cubic zirconia make silicone watches even more fun. For a more subdued look, try a black or white silicone watch that matches anything and still makes a statement.

Menswear-inspired watches. Women's apparel inspired by the classic tailoring and oversized fit of men's clothing is super hot right now, so check out menswear-inspired watches to add a bit of trendy style to all your existing outfits. Many of these watches for sale feature large faces and chunky stainless steel bands that were made to look hefty, while still fitting a woman's wrist. For a luxury watch that still shows off your fashion sensibility, check out designer watches that embrace this style.

Charm watches. If you're hesitant about picking up a traditional watch, charm watches may be just right for you. These watches come in several styles but all have one thing in common: They pair the fashion potential of a bracelet with the functionality of a watch. Look for a dress watch with a single sterling silver charm that delicately hangs from the band, or check out watches with toggle closures and multiple charms that can be added or taken off depending on your mood and outfit.

Buy Watches
Back to Guides Directory