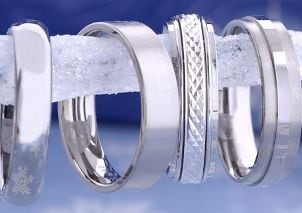 Jewelry with a hard edge is perfect for any wardrobe. A few titanium rings in the hottest new styles will round out your jewelry collection. Titanium is affordable and lightweight, so it's an ideal metal for fashion rings. With so many styles available, shopping for titanium rings is fun and easy. Consider these new options in titanium rings.
Trendy Titanium Rings:

Metal on metal: The light grey color of titanium looks great next to yellow gold. Titanium rings featuring both metals are trendy and aesthetically pleasing. Titanium bands with a strip of gold in the center of the ring are simple and sleek. Look for titanium rings with diamonds set into yellow gold bezels if you are looking for a unique ring with some serious sparkle.

The new diamond: If you want a sleek, light-reflecting ring, but you don't want to splurge on diamonds, consider a diamond-cut band. Diamond cuts are diagonal with raised points to mimic the geometric appearance of cut, loose gemstones. The sharp points and flat sides reflect light, making the ring sparkle as though it was set with jewels.

Be square: When you're ready to branch out, try a titanium ring with a square or rectangular top. Square titanium rings are very modern because they give you lots of shine in a simple package. Many square and rectangular titanium rings showcase a diamond or gemstone. Both men and women can wear square-topped titanium rings with centered or off-center diamonds.

Stylishly mechanical: If you love working on cars, assembling furniture or improving your home, choose a titanium ring that showcases those interests. Octagonal rings that look like mechanical nuts make great conversation pieces, which will ensure that you'll always find someone to talk cars with at a party.

Black is the new black: Black-plated titanium rings are cropping up everywhere, thanks to their cool, neutral appearance. Black plating can add sleek style to any ring, but titanium rings are favored because they are so lightweight, even after they are plated. Black-plated titanium rings are often engraved with patterns or set with gemstones that add to their hip design.

Buy Titanium Rings
Back to Guides Directory