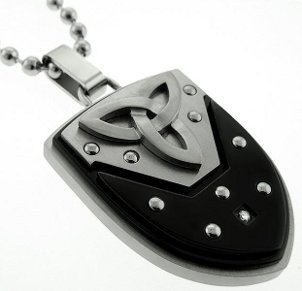 Men's jewelry is a quickly changing category; different pieces of men's jewelry are available every day. One of the most popular current trends in men's jewelry is Celtic jewelry. Men's Celtic jewelry is popular for many reasons; men's Celtic jewelry connects you to a different culture, and it is highly historic. Men's Irish jewelry also offers a unique jewelry aesthetic. Whether you want Irish jewelry to celebrate your heritage or you just love the look of Celtic jewelry, our favorite men's Irish jewelry trends are a great place to start shopping.
Men's Celtic Jewelry Trends:

Celtic knot: Celtic knot designs have been popular in Irish jewelry for centuries. Early Irish cultures incorporated these eternity knots in textiles, headstones and clothing and jewelry designs. There are many different Celtic knot designs to choose from in men's jewelry. Stainless steel, sterling silver and tungsten men's rings commonly feature Celtic knot engravings, as do cuff links, pendants and bracelets.

Shields: A shield is a great symbol that represents bravery and honor. The Irish have a long history of defending their land and way of life. Irish shields are a fantastic men's Celtic jewelry trend. Men's shield pendants, bracelets, cuff links and money clips are versatile and meaningful. Consider shield jewelry made of leather, metal and diamonds.

Religious: Irish culture is full of rich religious history. Christian jewelry with an Irish twist is interesting and modern. Consider a cross pendant with a Celtic knot design for your religious jewelry collection. Irish culture is also tied to other religions, including ancient Pagan belief systems. Men's Celtic jewelry with meaningful Pagan symbols and sayings will help you express your beliefs and ideals.

Wedding: If you are planning a wedding with an Irish theme or if your partner also has a passion for Irish beauty, consider Celtic wedding bands. Claddagh rings are very historic; the Claddagh design incorporates a heart being held by two hands and topped with a crown. Claddagh rings were used as wedding bands in the old Irish town of Claddagh. Celtic knot rings are also a great wedding band choice. Some Irish rings feature beautiful green emeralds; these rings make a great engagement ring choice.

Buy Men's Jewelry
Back to Guides Directory