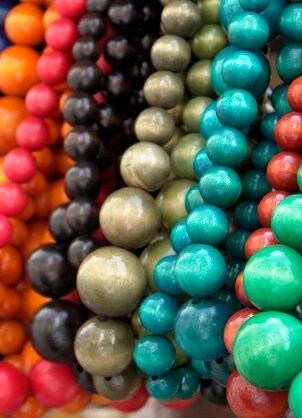 Life is not always as romantic and fun as many of us would like it to be. We simply can't always indulge in the fantasies we have. Fashion and jewelry are two of the best ways to bring more romance and fantasy into everyday life. Jade has long been a favorite gemstone of many mystical cultures, and new trends in jade jewelry bring this gemstone to modern jewelry boxes. Jade jewelry is incredible, and it comes in many different styles. With our tips, you can use trendy new jade gemstone jewelry to give a basic outfit plenty of flair and fancy.
Jade Jewelry for Your Collection:

Colorful jade: You may think jade has to be green, but many new jade jewelry pieces showcase purple jade, red jade, yellow jade, blue jade, pink jade and orange jade gemstones. Orange and red jade earrings, jade necklaces and jade pendants are fun and bright and immediately remind people of warm, sunny summer days or cool, crisp fall evenings. Pink, blue and purple jade gemstone jewelry is fun to wear in the spring and adds a feminine touch to any outfit.

Unique styles: Modern jade jewelry is available in many styles. Jade gemstones are often carved into beautiful shapes and fanciful creatures. You can wear a jade pendant carved into the shape of a happy Buddha or buy jade earrings with beautiful carved jade dragons. Jade beads are also very common. Beaded jade jewelry is often otherworldly and can completely transform a basic outfit. Wear a short jade bead necklace instead of pearls when you are dressing up or try a long strand of purple jade beads with your favorite skinny jeans and high heels for a dinner out with friends.

Inspired by nature: Jade jewelry is fabulous and fantastic; it comes from the earth and can connect you to nature and fascinating foreign cultures around the world. Many modern pieces of jade jewelry are made to bring nature to your look and your life. Jade pendants shaped like flowers, trees and stars can give any outfit a breezy, earth-centered style.

Buy Jade Jewelry
Back to Guides Directory