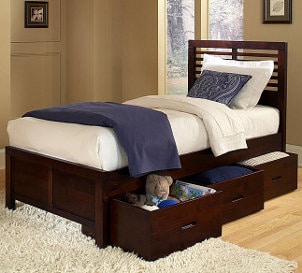 If you're getting ready to update your child's bedroom, it's worth researching new trends in children's beds before you start. Kids' furniture can be expensive, and ending up with something they hate a couple years down the line isn't ideal. Children's beds come in wide range of styles, so you can find something for your little princess, your future football star, or even your tomboy twins.
Popular Children's Beds:

Bunk and loft beds: Bunk beds are a kid's room classic. Always in style, they're a safe choice for kids of all ages. The traditional bunk is perfect for siblings who share a room. If your kids are older, consider a loft bed; similar to just the top bunk, it leaves room for a desk or dresser under the sleeping space.

Platform beds: Platform beds don't require a box spring. They're great for kids' rooms because the frame is lower than other beds, making them easy for little ones to get in and out of on their own. Many children's platform beds have clean, modern styles that will make them easy to decorate the rest of the bedroom around.

Beds with built-in storage: The kids' storage bed trend includes many styles of beds but has the unifying feature of including storage space. In a platform bed, this can be drawers or cubby holes underneath the bed frame; in bunk beds, it can mean attached bookshelves joining the top and bottom bunk; and in a standard twin, it can be shelves built right into the headboard. Wherever the extra storage is, you know you'll find things to fill the space.

Canopy beds: Canopy beds are perfect for girlie girls and kids transitioning to their teen years. Create a bed fit for a princess by draping fabric in pink, purple, or your daughter's favorite color over the edges of the frame. As your child gets older, create a private retreat by letting her decorate the bed however she chooses.

Trundle beds: Trundle beds are perfect for the child who likes to host sleepovers. A second bed stays stored under the main bed until needed. Trundle beds are the best of both worlds: You have an extra mattress when you need it and extra floor space when you don't.

Convertible cribs: Convertible cribs are most practical in a nursery that will transition to a child's bedroom. They start their lives as a crib and then convert to a toddler bed with the help of specialty bed rails. The small size of a toddler bed can help make the move from crib to bed an easier one; you'll use the same crib mattress for the toddler bed. Make sure to choose a style and finish you like since you'll be using the bed for years.

Specialty beds: If you're feeling extra adventurous, consider buying a specialty bed. This category includes everything from headboards with built-in speakers and a dock for an MP3 player to beds shaped like a carriage or pirate ship. A theme bed can set the stage for an entire bedroom and is sure to make memories your child won't ever forget.
What Do You Want to Do Next?

Shop for Convertible Cribs
Shop for Bunk Beds
See All Children's Beds
See All Guides
Read More Furniture Guides
Learn More about Kids' Furniture