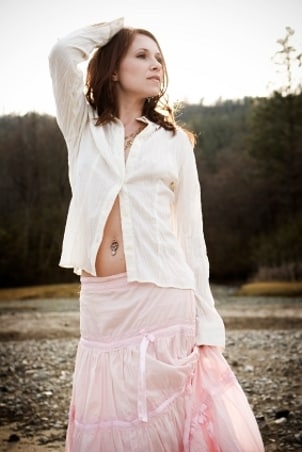 Express your free spirit with fun and flirty belly rings. Belly rings are one of the sexiest options in body jewelry, and they are extremely trendy season after season. To keep your fashion jewelry collection fresh and updated, consider trying a new piece of trendy body jewelry. New jewelry styles are available every day. Get started with these new trends in belly rings.
Trendy New Belly Rings:

Animal-themed rings: Critters are popping up on fashion jewelry finds such as necklaces, earrings, bracelets, rings, pins and charms. Animal-themed body jewelry is also available, allowing you to indulge in a variety of cute pieces. Belly rings with dangling lady bugs, kittens, dolphins, owls and frogs will add whimsy to your look.

Belly chains: For a dramatic body jewelry look, try belly chains. Belly chains are available in many varieties and some connect to a belly ring for a very sexy style. You can wear belly chains with swimsuits or low-rise jeans and cropped tops. Full-body chains are also available.

Captive rings: Some of the best jewelry trends are back-to-basics styles. Captive rings close all the way, offering a classic, streamlined style. Captive belly rings look great with hoop earrings and band rings. Captive rings are also very comfortable because they don't have a lot of intricate details and extravagant charms.

Fruits: Fruits are fun and summery; fruity gemstone adornments are perfect on belly rings. Bright red cherries, red and green apples, exotic pineapples and adorable strawberries can be worn all summer long with your favorite bikinis and smocked skirts. Keep your look fresh and juicy with fruit-themed body jewelry in a variety of colors.

Gemstones: Valuable gemstones can be found in all types of jewelry. Colorful gems add a lot of style to belly rings while allowing you to indulge in authentic and valuable jewelry. Consider buying birthstone belly rings for your collection. Each birth month has a fabulous gemstone to call its own. You can match your belly rings to your other jewelry by choosing the gemstones that coordinate with your earrings, bracelets, necklaces and rings.

Buy Belly Rings
Back to Guides Directory