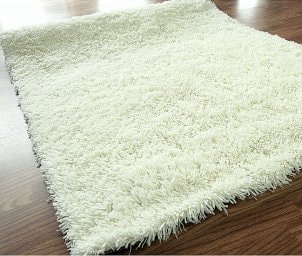 Once the dominion of the 70s and 80s, shag rugs are making a powerful comeback. Hordes of trendy, urban adults are furnishing their apartments, flats and homes with new, fashionable shag rugs. While some think shag rugs are outdated, hipsters in the know are more than happy to take advantage of this trend-worthy blast from the past. Don't get left out in the cold, join the shag rug revolution with some of these uber-hip shag rug trends.
Shag Rug Trends:

In living color: Spice up any room or hallway in your home with colorful, shaggy bathroom rugs, runner rugs or accent rugs to play off your furniture. Guests won't be able to deny your hip, contemporary rugs. They'll love to run their fingers and toes through the comfort of vibrant shag rugs, and the bright colors will bring life and excitement to every corner of the room.

Shaggy shapes: Rectangular and square-shaped shag rugs are still perfect for some rooms, but for larger rooms, trend gurus are going with large, round rugs in the center of the room. Large and shaggy round rugs can bring a completely new personality to a room, so go with our first trendy tip and pick a happy one; turn any room in your home into a vibrant gathering place with a round shag rug.

Everything is new again: If bright colors don't quite match with your home, try going the other direction. Soft white or off-white shag rugs are a classic look, especially in bathrooms. Accent rugs look great with black. For a cool retro look, go with neutral colors, patchwork designs or a leather shag rug. Runner rugs in the hallway will really stand out with a hip, retro shag rug look. No matter what color or style you choose, shag rugs are sure to grab attention.

Shaggy fireplace paradise: Curling up in front of the fire has never been more comfortable than when a large, soft shag rug is pushed against the base of the fireplace. Fireplaces are supposed to be comfortable, so make yours as welcoming as possible with a shag rug guests will love lying out on.

Buy Area Rugs
Back to Guides Directory