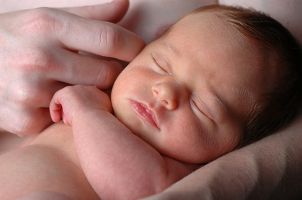 The arrival of a newborn baby brings happiness, joy and a plethora of baby gifts to a couple's or family's home. As a friend or family member, you will get to take part in the celebration and welcome the baby into the world with emotional and tangible gifts. Help the new parents ease into the transition and make the most of the experience by choosing the perfect baby gifts for the new baby.
Ideas for Baby Gifts:

Clothing. A new baby goes through many outfits, and his parents will appreciate your thoughtful baby clothing gift. Babies grow quickly, so consider purchasing larger sizes, knowing that they will eventually fit. You can choose from baby clothing basics, such as undershirts and socks, or splurge on a fancy newborn dress or pair of adorable jeans.

Toys. Toys can help children develop their motor and sensory skills while keeping them entertained. For newborns, consider fun baby items that do not have to be held. Mobiles with blinking lights and sounds help stimulate the child's senses and can hang above a crib or basinet. Stuffed animals that are attached to blankets give babies something cute and cuddly. Toys that play music and have blinking lights and sounds give newborns quality sensory experiences. Baby books are also fun toys for babies of all ages.

Memory-keeping supplies. New parents will want to keep track of milestones and memories throughout their child's first year with a baby book. Give them a digital camera, photo albums, scrapbooking accessories or a baby memory book to make memory-keeping easy and fun. Subscriptions to scrapbooking magazines or crafting classes can also inspire new parents to keep baby memory books.

Gift baskets. Baby gift baskets are perfect for anyone who wants to give an impressive gift filled with lots of baby items. Purchase a baby gift basket already assembled or fill a cute container with pacifiers, bottles, stuffed toys, clothes and blankets. Baby gift baskets make great options for baby-shower gifts and presents to take when visiting baby and mom in the hospital.

Buy Baby Gifts
Back to Guides Directory