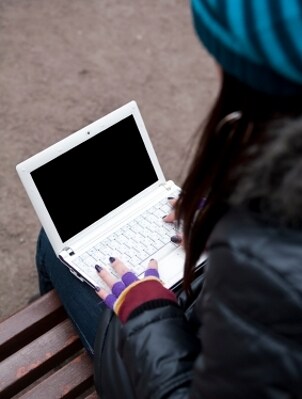 The future of computers is powerful, highly compact and incredibly portable -- and netbooks may fit that description better than any other portable device. Netbooks squeeze the applications and wireless capabilities of laptops into a remarkably small package with a long battery life. They also feature a lower price tag than laptop computers. This buying guide will help you discover exactly what to look for in a netbook and how more portable computing will change the way you use technology.
Buying a Netbook:

Basic features: All netbook laptops feature signature portability features, such as compact screens and keyboards, as well as processing capabilities that balance performance with low power consumption. Nearly every netbook PC will have built-in wireless capabilities, so you can get online when you're out and about. This makes netbook computers a great choice for Wi-Fi networks in the classroom or the coffee shop, where you may just want a handy Internet portal for a few hours without being tied down to a wired connection.

Full computer capabilities: Netbooks are fully functional computers, just like notebook computers. Netbook PCs run on the same operating systems that you're familiar with, probably even the same as your desktop computer at home. You can be confident that your netbook computer will be able to run many of the same programs that you would use on any other computer.

Screen size: Netbooks normally have screens ranging from 8 to 10 inches diagonally. Smaller screen sizes produce smaller screen resolution: This means that videos and games you run on a netbook PC may not have the same high level of detail, so a netbook PC is not ideal for heavy graphics rendering. Netbooks do work well for Web-browsing, editing documents and regular computing tasks.

No disc required: Netbooks almost never include optical drives, so your netbook probably won't include a CD or DVD drive. Instead, you can use USB memory sticks and your wireless connection to transfer or download files. This allows your netbook to be much more lightweight.

Web-based computing: Some of the biggest benefits of netbooks come to computer users who spend more time using Web-based applications than running programs on their hard drive. Web-based applications run on a web server, so they don't use your netbook computer's resources. This leaves your netbook PC open to run your favorite programs while you interact with other tasks on the Web.

Hard drives: You have a few choices when it comes to the hard drive on your netbook computer. Many netbook PCs use standard hard disk drives, just like desktops and laptops. These hard drives provide plenty of storage space for your netbook. You may also choose solid state device (SSD) hard drives. Solid state drives are physically smaller and lighter than standard hard drives. They also use less electricity, making SSDs an ideal for increasing netbook battery life. As a newer technology, solid state drives tend to be more expensive than other hard drives, but they will go down in price as they become more common.

Keyboards: Because of their size, laptop and netbook keyboards are smaller than a full-sized keyboard. This can be an issue if you do a lot of typing. One solution for more comfortable typing is to buy a portable USB keyboard to keep in your laptop bag. A wider, more comfortable keyboard can reduce strain on your wrists as you type.

Touchpads and mice: Touchpads are the most common mouse replacement for netbooks and laptops. Look for a touchpad that is large enough to use comfortably and has easy-to-reach buttons. You can also add a USB mouse to your netbook if that's more comfortable for you.
Tips from Overstock.com:

The USB interfaces on your new netbook allow you to use all of your favorite USB computer accessories. A USB mouse and keyboard are perfect for when you have room to spread out while you work, and it's always a good idea to have connector cables and USB memory sticks handy for connecting to other devices. Of course, don't forget to pick up a carrying case for your new netbook and accessories.

Once you have a few computers in your home, you may want to look into setting up a wireless network in the house to easily share files between computers or simply to let all your computers share your Internet connection. With the right networking equipment, setting up a wireless network can be a breeze.

Buy Netbooks
Back to Guides Directory