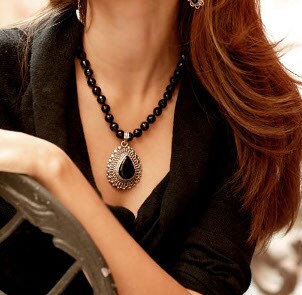 When you are shopping for jewelry, you likely follow your instincts and choose pieces that you think are the most beautiful. When you are trying to choose between several lovely necklaces, however, it can be helpful to understand a bit about different types of necklaces. Several different necklace styles can diversify your jewelry collection, giving you something to wear in any situation. Consult these common terms when shopping for necklaces.
Common Necklace Terms:

Box chain: This necklace has cube-shaped links. The chain is usually worn with a pendant.

Box clasp: Also called a pressure clasp, the tongue-and-groove construction forms a cube-shaped closure. This is one of the sturdier clasp types.

Cable chain: This necklace chain has round, uniform links; it is the most common of chains.

Curb chain: The round or oval links of this chain have beveled sides and lie flat along a surface.

Diamond cut: A finish that features diamond-shaped facets cut into metal jewelry to make it reflect light.

Extender: This short utility chain attaches to a necklace to increase length.

Figaro chain: This style features a pattern of three short links followed by one long link. It's a popular design for necklaces, bracelets and men's jewelry.

Lariat: A lariat is a necklace that fastens in the front with a loose knot that adjusts the length. A lariat-style necklace has the look of the lariat but fastens behind the neck with a clasp.

Lobster claw: This fastener fits a round ring into an oval clasp.

Omega chain: This necklace has a flat surface formed of bar-shaped links that are bonded to a metal strip. It is usually wider than the average chain and is meant to be worn alone.

Slide: A charm that, unlike a standard pendant, does not dangle from a loop or hook. It has a tube on back for the chain.

Spring ring: The most common of necklace clasps, it has a round tube with a knob attached to a spring.

Snake chain: The links form a very smooth, round cable. This chain tends to drape like a ribbon.

Toggle: This clasp features a bar that fits through a ring to connect two ends of a chain. It is decorative as well as utilitarian.

Buy Necklaces
Back to Guides Directory