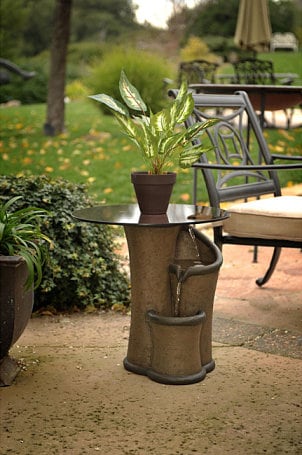 Fountains add the relaxing sound of running water to any setting. Outdoor fountains allow water to spout, jet, pour or trickle into a basin before draining away. Fountains range in size from burbling rock gardens ideal for tabletops to large pieces of public art. If you live in an urban area or a busy apartment complex, you can use a fountain to create a sense of privacy by masking traffic and other noises. When choosing an outdoor fountain, first consider how much space you have. Many yards can accommodate large pedestal-style outdoor fountains while a smaller fountain will create a focal point in a petite flower garden. The longer the waterfall, the more noise it creates; consider volume when choosing your garden fountain.
Popular Garden Fountains:

Birdbaths: Birds are attracted to the sound of running water; so many fountains can serve double duty in your yard. Birdbaths not only provide clean water for birds; they also make beautiful garden statues. Featuring a multitude of designs, birdbaths are usually crafted in metals, ceramic, fiberglass or resins. Cast iron and cast aluminum are especially durable. The bowl should have a gentle incline of 2 or 3 inches in depth. Also, look for a rim with a rough texture so the birds will have better footing when the rim is wet.

Hanging: This style of birdbath features a small bowl made of copper, resin or even decorative glass and hangs from a tree with chains -- a great design for a smaller garden or patio.

Heated: Heated birdbaths use solar or electric energy to heat the water, keeping it thawed and providing drinking water during the winter months. Solar-powered products have LED panels that store energy from the sun and use that energy to run motors or pumps. Be sure to place solar-powered items in a sunny area.

Mounted: Some birdbaths and fountains attach to railings or to walls. Also called deck-mounted birdbaths, these baths often feature heaters that can be plugged into an outdoor electrical outlet. Wall-mounted fountains may have classic style elements, including European, Grecian and Asian influences.

Pedestal: The pedestal is the most common design in outdoor fountains and birdbaths. A bowl is perched atop a pedestal that sits on the ground. A pedestal needs a weighted base to stay steady on uneven ground.

Tabletop: A small fountain meant to sit on a table or ledge, these are usually indoor models. An indoor tabletop fountain is an excellent addition to a covered porch or garden room where the extra humidity will help garden plants.

Waterfall: These fountains resemble a small stream tumbling over the rocks, yet they circulate the water like a regular outdoor fountain. If you want to keep the garden decor natural, choose a waterfall fountain. Remember that the farther the water falls, the louder it will be; if you're worried about noise, choose a small-scale waterfall.

Buy Outdoor Fountains
Back to Guides Directory