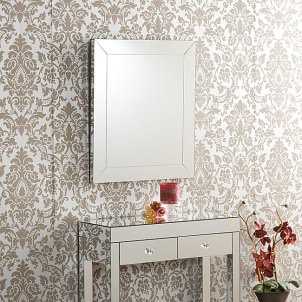 Mirrors are one of the most versatile decorative accessories you can add to your home. Whether you are using them to check your reflection or to add flair to your home decor, you want your mirrors to be a perfect accent to your home. With all of the mirrors available, you may be unsure about which style would be the best. This mirrors buying guide is designed to help you decide which mirrors will complement your decor.
Styles of Mirrors:

Vintage chic: Antiqued mirrors are the perfect accent to a room full of furniture from estate sales and antique stores. Look for mirrors where the glass has the appearance of age, such as black flecks and a silvery haze. Or try ones with geometric art deco frames. These can also be a cool touch in a contemporary room.

Traditional style: Louis XIV, known for his oft-duplicated, opulent style, was one of the first to use mirrors as decor. When you copy his style with traditional mirrors, you can create a classically styled room. A gold-framed mirror over a fireplace is grand addition to a room. Hang traditional mirrors along with portraits and tapestries for the complete look.

World style: If you prefer the globetrotter look in your home, global mirrors will "reflect" your international tastes. Mirrors accentuated with such details as Peruvian hardwood, Mexican tiles or Chinese calligraphy will all give your home a world-traveler look. You could mix these mirrors with eclectic pieces from all over the world, or you could stick to one region in your decor.

Country decor: Casual mirrors, such as a wooden framed mirror, would be a perfect addition to country home decor. If you have French country decor in your home, you may like decorative mirrors with iron scrollwork frames. The rustic look of a mountain cabin can be accented with a pine-framed mirror.

Functional: Not all mirrors are about their decorative frames. Some do a job, like jewelry armoires or bathroom mirrors. If you need more storage in your home, think about function before fashion and shop for mirrors that can double as shelving.

Buy Mirrors
Back to Guides Directory