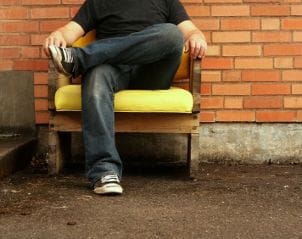 You may be a guy who likes shopping for men's shoes or you may dread the day you have to replace a worn-out pair. Either way, you may be able to use some tips on finding men's shoes that are right for you, especially when you're shopping online. This men's shoes buying guide will help you find the shoes you need, give you a few tips on how to wear them with style and help you make your men's dress shoes and men's casual shoes last for years.
Men's Dress Shoes:

Oxfords: You need shoes with laces when you're wearing a nice suit or a tuxedo, and oxfords (including wingtips or brogues) fill that need. There's one important rule to remember: The more dressed up you are, the thinner the soles of your men's dress shoes should be. You'll also want men's black shoes with shiny leather for a formal event. Brown oxfords or men's leather shoes with lug soles work well with your less formal clothes.

Loafers: Dress pants, business suits, sport coats and sweaters all work well with loafers and similar men's casual shoes. If you dress in these clothes for work, you'll want to have a pair of brown loafers and a pair of men's black shoes.

Boots: Dress boots, like ankle boots or Chelsea boots, work well with suits when the weather is cold and wet. If you're going to wear your boots all day, they should follow the dress shoe rule: Look for thinner soles and shinier men's leather shoes to look professional.
Men's Casual Shoes:

Fitting Men's Shoes:

Measure your feet late in the day. Your feet tend to be larger at this time, so you can get a precise measurement this way. You should also wear the socks you plan to wear frequently with your shoes.

Create a measuring chart. Have a friend trace your foot on a piece of paper and measure the tracing, finding the length of your foot in inches closest to the next 16th inch. Find the width of your foot, and then measure your other foot; use the measurements from the largest foot. Use these charts to find your U.S. men's shoe size:







| US Men's Shoe Size | Length in Inches |
| --- | --- |
| 6 | 9.31 |
| 6.5 | 9.5 |
| 7 | 9.69 |
| 7.5 | 9.81 |
| 8 | 10 |
| 8.5 | 10.19 |
| 9 | 10.31 |
| 9.5 | 10.5 |
| 10 | 10.69 |
| 10.5 | 10.81 |
| 11 | 11 |
| 11.5 | 11.19 |
| 12 | 11.31 |
| 12.5 | 11.5 |
| 13 | 11.69 |
| 13.5 | 11.81 |
| 14 | 12 |
| 14.5 | 12.19 |
| 15 | 12.31 |



Find the width of your foot with this size chart:






| US Men's Size | C or Narrow | D or Medium | E or Wide |
| --- | --- | --- | --- |
| 6 | 3.3 in. | 3.5 in. | 3.7 in. |
| 6.5 | 3.3 in. | 3.6 in. | 3.8 in. |
| 7 | 3.4 in. | 3.6 in. | 3.8 in. |
| 7.5 | 3.4 in. | 3.7 in. | 3.9 in. |
| 8 | 3.5 in. | 3.8 in. | 3.9 in. |
| 8.5 | 3.6 in. | 3.8 in. | 4.0 in. |
| 9 | 3.6 in. | 3.9 in. | 4.1 in. |
| 9.5 | 3.7 in. | 3.9 in. | 4.1 in. |
| 10 | 3.8 in. | 4.0 in. | 4.2 in. |
| 10.5 | 3.8 in. | 4.1 in. | 4.3 in. |
| 11 | 3.9 in. | 4.1 in. | 4.3 in. |
| 11.5 | 3.9 in. | 4.2 in. | 4.4 in. |
| 12 | 4.0 in. | 4.3 in. | 4.4 in. |
| 12.5 | 4.1 in. | 4.3 in. | 4.5 in. |
| 13 | 4.1 in. | 4.3 in. | 4.6 in. |
| 13.5 | 4.2 in. | 4.4 in. | 4.8 in. |
| 14 | 4.2 in. | 4.5 in. | 4.9 in. |
| 14.5 | 4.3 in. | 4.6 in. | 4.9 in. |
| 15 | 4.3 in. | 4.6 in. | 5.0 in. |

Buy Men's Shoes
Back to Guides Directory