Men's Fitness Clothing Buying Guide
by Stephanie Petersen
Whether you are training for another season of your favorite sport or you are just starting to figure out your fitness goals, you need the right men's fitness clothing to wear. Buying fitness clothing should be the easiest part of your workout, so use this information to help you decide what you need for your chosen sports.
Types of Fitness Clothes: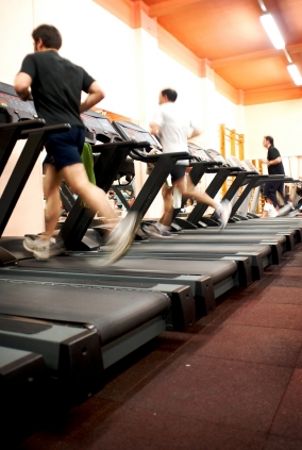 Shop Men's Athletic Clothing ▸
Start with the base layer:

The base layer is important when you're exercising because it fits against your body. The main pieces for the men's base layer are compression shorts and compression shirts. If you're exercising outdoors in cold weather, your base layer may also include thermal underwear. Compression shirts are meant for more intense workouts. For example, you don't need one for yoga, but you may want to wear one while mountain biking. They are available with a variety of features, such as moisture wicking, antibacterial materials, temperature regulation, and muscle support. Compression shorts have more specific benefits to consider.
Why Use Compression Shorts:
Separate muscle groups: Separating the groin muscles and the thigh muscles prevents them from rubbing together. When these muscles rub, it can cause pain in the lower back and in the sciatic nerves, which run along the outer thighs.
Prevent chaffing: Sweaty thighs can lead to chafed legs. The layer of compression shorts prevents that, and some compression shorts also wick away moisture, which helps even more.
Replace a jock strap: If you're shopping for men's fitness clothing, you may want to replace a jock strap with compression shorts. Compression shorts offer support enough to replace a jock strap while exercising, but they don't replace a cup for rougher sports. Look for compression shorts with a cup pouch if you need to wear one.
Choose exercise pants when it's cooler:

Your exercise pants need to be more than just comfortable; you need to have a full range of movement without extra fabric that could get in the way. Men's exercise pants are often loose for comfort, warm enough for outdoor runs, and stretchy enough to allow for any type of exercise. If you'll be layering exercise pants over shorts, you may also want pants that zip or snap at the ankles, so you can take them off mid-workout without removing your shoes.

Consider exercise shorts when it's warmer:

When shopping for exercise shorts, the bagginess and the length that you choose should be determined by the workouts you'll do in them. For example, running shorts are short and loose, but biking shorts need to be a little longer and more fitted.

Find the right shirts:

While you can always work out in a regular cotton T-shirt, fitness shirts are more like the jerseys that professional athletes wear. They're designed to help regulate your body temperature and to wick away moisture. Depending on the intensity of your workouts, you may want to have a few of these shirts to exercise in.

Top it off with outerwear:

If you're working out in the outdoors, be sure to have a vest, sweatshirt, hoodie, or jacket that is comfortable and that allows for movement. If you're doing any sort of workout that requires equipment, make sure your outerwear isn't so loose that it make catch on something. Fitted, flexible pieces are best.