Men's Blazers Buying Guide
by Stephanie Petersen
Published April 28, 2010 | Updated June 25, 2015
It's not a suit jacket, and it's not a hoodie: A blazer is somewhere in between, not casual but not completely formal either. How do you walk that fine line while staying stylish and appropriate? This buying guide will show you how to buy blazers that will suit your needs and your style.
What to Look for in a Blazer: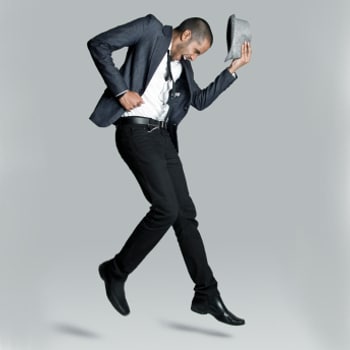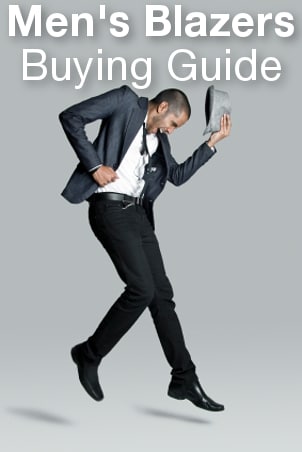 Shop Men's Blazers ▸
Vents

Blazers may have one center vent, two side vents, or no vents at all. Single vents are the most common, while double vents allow more freedom of movement. Blazers without vents are uncommon and can restrict movement.

Breasts

You'll see more single-breasted blazers than double-breasted. Double-breasted blazers have a very traditional nautical feeling which is fairly formal.

Buttons

You'll see some single-button blazers, but double- and triple-button blazers are the ones you'll see most. Double button blazers have a classic look that will always be in style. Triple-button blazers used to be worn only by the more fashion-forward, but are becoming more common. Men's blazer buttons will either be metallic, or they'll be a color that matches the blazer color. For every day wear, you'll probably want blazers with the more subtle buttons.

Size

Blazer sizes have a number and a letter or word.
How Blazer Sizes Work:
The first part of a blazer size is a number; this is your chest measurement or your over-arm measurement minus 7 inches. (Read our men's measurement guide to see how to take these measurements.) If these two numbers are about the same, you'll use your chest measurement as your size. If the measurement over your arms is larger than your chest, use your over-arm measurement (minus 7) as your size.
The second part of the blazer size designates whether the blazer is short, regular, or long, and it may just be the first letter: S, R, or L. The letter or word refers to your overall height, but these measurements are flexible. Be aware of your overall body proportions and choose the length that covers your rear end without going any farther. For example, if you're 5'10" but you have a long torso, then you may want to shop for a long blazer. If the sizes don't fit you perfectly, remember that you can take it to a tailor. As long as the shoulders fit, your tailor can make minor adjustments to the waist, the length of the sleeves, and the overall length.
| Blazer Size | Recommended Height |
| --- | --- |
| Short | 5'5" to 5'7" |
| Regular | 5'8" to 5'10" |
| Long | 5'11" to 6'2" |
Which Blazers to Buy:
Corduroy: Every man could use a corduroy blazer in his wardrobe. It's the perfect jacket when you want to be casual but smartly dressed. Even if you don't wear blazers too often, you'll want to have one of these.
Camel: Camel hair blazers are a classic, and they work well for cooler weather. Perfect for lunch at the country club, a camel hair blazer can be worn over a polo shirt or a button-down shirt. The light brown color works well with dark brown or navy pants.
Navy: If you're looking for the preppy, nautical look that typifies blazers, a navy blazer -- with or without brass buttons -- is the perfect choice. Wear one with almost any color of pants: grey, brown, tan, or olive green. If you do opt for the traditional brass buttons, be sure to wear a gold watch and belt buckle to coordinate.
Grey: Grey blazers have a bit more of a dressed up feeling (unless you choose one of the modern distressed blazers). If you need a blazer you can wear to the office or to a holiday party, look for a grey one in wool.
Velvet: Many men bemoan the lack of excitement among men's clothing, but velvet blazers are one of the few times men can indulge in fashion. Try wearing one with corduroy pants to a holiday party.
Linen: Linen is the perfect weight of fabric for hot weather, so if you need to wear a jacket when the temperatures are rising, a linen blazer would be perfect for you.