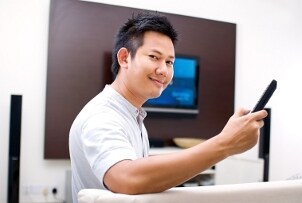 With all the new audio and video options available for home theater systems, it may be time to consolidate all of your entertainment electronics into a single media center. This media center buying guide will help you determine which components to consider when assembling a media center so that you can have the best picture quality and amazing sound in a unified system that's simple to use.
What You Need to Know:

Identifying entertainment tasks: You may get your entertainment from several different sources. Identifying the types of entertainment you enjoy can help you discover what capabilities your media center should have. The term "media center" means different things to different people, ranging from home theater systems to all-inclusive media center PCs. Make sure your media center has everything you want, whether it's video games, music or high-definition video.

Home theater systems: Probably the simplest solution for setting up your media center is with a home theater system. Usually, a home theater surround-sound system will include the speakers, connected to a receiver that may have a Blu-ray player or DVD player. Your home theater system can connect to your TV and other devices via an HDMI or other connection, giving you cinema-quality audio and video right in your living room.

Home theater PCs: Connecting computers to televisions isn't new, but it's never been quite as easy as with HDTVs. With the right components and software, a media center PC can combine numerous entertainment functions into a single machine, using your TV as a display. A media center PC can function as a Blu-ray player, DVR, stereo, Internet portal, video game system and even a media streaming device for online videos and music. You can find a preassembled home theater PC or put one together yourself. A good media center PC will have some of these components.

Video capture card: These computer expansion cards let you stream video from your Internet, cable or satellite connection. Your media center PC can then encode, store and playback TV shows and movies, just like a DVR. Look for video cards designed for HD video, preferably with an HDMI output for you HDTV. If you already have a video card that you're happy with, look for a stand-alone video capture card or TV tuner card to receive video input.

A large hard drive: When you're streaming and storing large media files like movies, a big hard drive is a necessity. Video tends to take large amounts of storage space on your media center PC, especially HD video. Look at least one hard drive with as much as 500 GB of storage space or more.

Sound card: For a media center PC, great sound comes from a sound card, especially if you'll be combining it with a surround-sound system. Look for a sound card that supports whichever surround-sound speaker setup you've chosen for your home theater.

Media center software: Several computer operating systems include some media management software, but you may want to explore other media center software packages. Each software package will have different features, including DVR programs and HDCP (high-bandwidth digital content protection) compatibility for devices like Blu-ray drives. Choose the software that enables you to manage movies and music easily.

Video game consoles: A lot of the latest high-definition game systems include connectivity and media management software that makes them perfect media centers. In addition to playing games, these systems can store audio and video, playing it directly through your TV and sound system. You can stream movies or audio to your game console from the Internet or play movies through a built-in DVD or Blu-ray player. All video game consoles feature a large number of games to choose from.

Buy Audio and Video
Back to Guides Directory