Mattresses Buying Guide
by Staff Writer
Published April 28, 2010 | Updated June 25, 2015
The quality of your sleep affects your health and your day, which is why shopping for a mattress should be taken seriously. Mattresses come in a wider variety of sizes, materials, and construction than ever before, which means it's easier to find one that's just right for you. However, having so many options can make it a little confusing. Learning about the different mattresses that are available can simplify your decision and help you find just the right bed.
Innerspring Mattresses: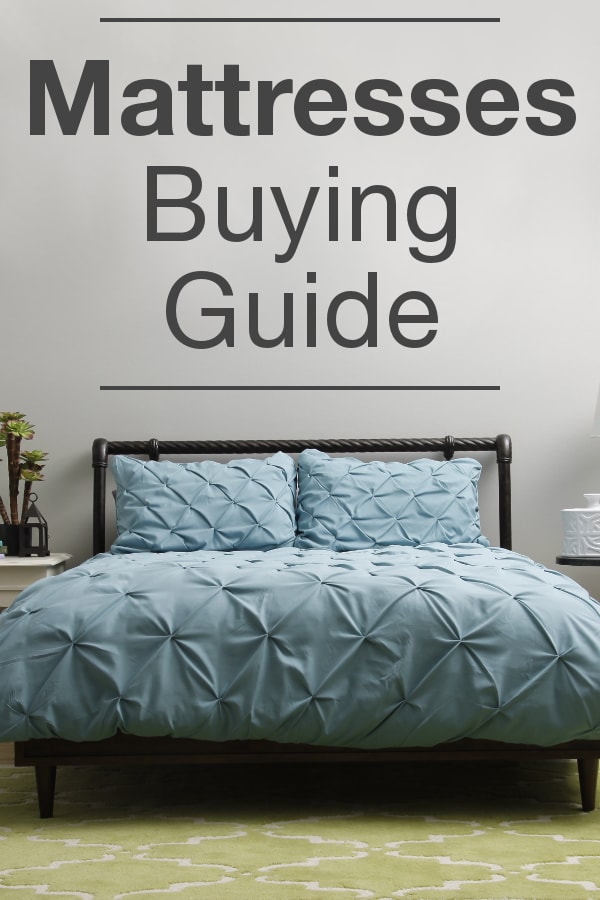 Shop Mattresses ▸
The Basics of Innerspring Mattresses

These are the mattresses you're probably most familiar with. Innerspring mattresses use a set of coiled springs to make the mattress both comfortable and supportive. They offer a good combination of support and comfort, and with so many different kinds of spring mattresses available today, you can find one that suits just about anyone's preferences.

Coil Gauge

Coil gauge measures the thickness of the springs inside a mattress: the higher the gauge, the thinner the spring. If you like a bed that feels springy, look for a mattress with a coil gauge of between 14 and 15.5 (1.63 and 1.37 mm). If you like a firm bed, look for 12.5-gauge (1.94 mm) coils.

Coil Count

The number of springs in your mattress makes a big difference in the quality; however, don't assume that the mattress with the most coils is the best mattress out there. The type of coil construction, the number of turns in a coil, and the quality of the coil all make a big difference in the durability and comfort of your mattress, so be sure to consider all of these factors together.

Box Springs

Most innerspring mattresses come with a new box spring. Even if your current box spring is in good shape, you may want to consider buying the box spring that comes with the mattress, since many mattresses and box springs are designed to work together and box springs are relatively inexpensive. Also, keep in mind that box springs come in different heights. Standard, high-profile box springs are nine inches in height, whereas low-profile box springs are five inches in height. They will both support your mattress equally well, but the low-profile design can make getting in and out of bed easier, especially with extra-high pillow-top mattresses.

Pillow-Tops

One thing to pay attention to is the cushion on the top of the mattress. Pillow-top mattresses, mattresses that have a thick layer of quilted foam over the springs of the mattress, are popular choices among people who sleep on their sides.

Memory Foam Mattresses:

The Basics of Memory Foam Mattresses

Visco-elastic memory foam reduces pressure points by conforming to your body. The initial firmness of memory foam mattresses surprises most people, but they can offer customized support that is good for people who enjoy firm mattresses or who have back trouble.

Memory Foam Density

There isn't a "best" firmness of memory foam. Low-density memory foams, usually around a 3-pound density (that means a cubic foot of the material weighs 3 pounds) offer more give than higher densities, but not as much durability. High-density foams offer great support and durability, but they are fairly firm, especially when you first lie down. Keep in mind that memory foam softens as it warms up, which means that any density of memory foam will feel a little stiff when you first lie down. If you're worried about durability but you want a soft sleeping surface, consider buying a memory foam mattress with a pillow top.

Memory Foam Mattress Construction

Many memory foam mattresses are a solid piece of memory foam, but there are several variations, from spring mattresses that feature a thin piece of memory foam in place of a pillow top to mattresses that are half memory foam and half latex foam or some other material. All these varieties have their bonuses, but make sure you carefully read the mattress product descriptions while you're shopping so you know exactly what you're getting.

Gel Memory Foam Mattresses:

The Basics of Gel Memory Foam Mattresses

While memory foam mattresses are incredibly popular, some people find that they get too hot when they sleep on them. The addition of gel to the memory foam increases the air circulation, so sleepers stay cooler. Gel memory foam mattresses also don't allow the sleeper to sink down into the foam as much, something other people don't like in regular memory foam.

Gel Memory Foam Density

Like regular memory foam density, they generally range from 3 pounds to 5 or 6 pounds, and the higher the number, the firmer the mattress will be.

Latex Mattresses:

The Basics of Latex Mattresses

One unique appeal of latex mattresses is that they are made of a renewable material, since latex rubber is made from the sap of rubber trees. Latex is good for people who like to stay cool while they sleep because it offers good air circulation. Also, a mattress made from quality latex foam is very durable and can last for well over a decade.

Hypoallergenic

Latex mattresses are naturally hypoallergenic, a big bonus if you have dust-mite allergies or mold allergies.

Latex Mattress Construction

Most latex mattresses are actually a combination of materials, with the top layer being latex and the lower layer being polyurethane foam or memory foam; be sure to read the description to see how thick the latex layer will be.