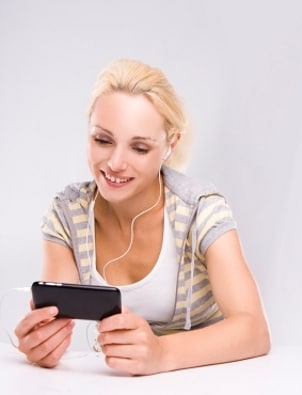 You may already know that your iPod can play movies and TV shows. What you may not know is how to take full advantage of the video capabilities your iPod has. With the right accessories, you can enjoy your favorite digital movies or even use your iPod as a video player for your HDTV. Below are a few tips to get you started using your iPod as the portable video player it was meant to be.
Watching Video with Your iPod:

Choose a video-capable iPod. Only certain iPod models have video capabilities. The iPod Shuffle has no screen, so it can't play video, but most late-model iPod Nano, iPod Classic and iPod Touch models all have LCD view screens capable of playing movies, TV shows and music videos.

Use the right video formats. Video can be encoded into many different formats, such as .mp4 and .m4v file formats. Different iPod models and generations support different file formats, so you may want to learn which formats your iPod will accept. You can then use video conversion software to convert incompatible files into a form your video player can use.

Output video to your TV. The iPod Classic and iPod Touch models can connect to your TV through special A/V cables. This allows you to take your video files anywhere and watch them on a big screen. You can even select a widescreen format of the video to display on the TV, even if your iPod itself doesn't have a widescreen.

Carry adapters to keep your iPod charged. Playing video will drain your iPod significantly faster than listening to audio files. You might get halfway through a great movie and notice that your battery is about to die. With the right charging adapter or a docking station, you can keep the movie playing.

Get more volume through iPod speakers. Sometimes, your earbuds just aren't enough to enjoy the details and impact of the sound for your movies, and sometimes you're not the only one watching. You can let everyone enjoy the show with a portable iPod speaker system or an iPod docking station with built-in speakers.

Buy iPods
Back to Guides Directory