Making the Most of a Small Bathroom Vanity
by Staff Writer
Published September 23, 2014 | Updated February 17, 2016
When you're stuck with a small bathroom, you have to get creative with the way you use space. A small bathroom vanity may be all that fits into the room, but that doesn't mean you can't find ways to make the most of it. Follow these tips to make your little bathroom feel larger, starting with the way you use your vanity.
Small Bathroom Vanity Tips: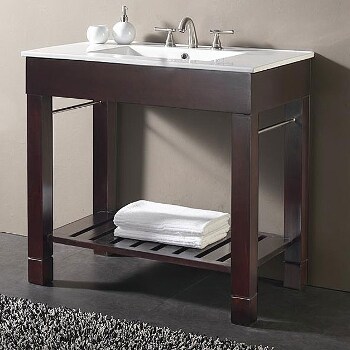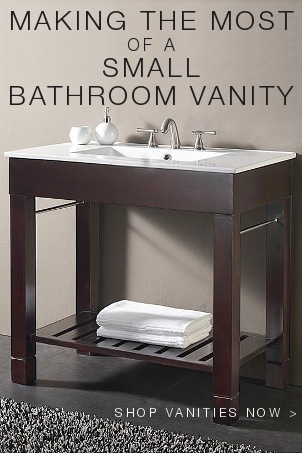 Shop Bathroom Vanities ▸
Add More Storage

If you're redoing the whole room, start by installing a single bathroom vanity that has storage built in. If you're working with an existing vanity, add a bathroom cabinet to the wall. This will leave you plenty of floor space while giving you extra storage. A floor bathroom cabinet will get the job done as well while staying tucked away in a corner of your bathroom.

Keep It Clean

Storing your bathroom items in a basket will give you more counter space for the things you want to leave out for easy access. The important thing to remember about your bathroom storage is to use it once you have it. Leaving lots of items on your vanity will give it a cluttered and claustrophobic feel. Install extra towels racks to keep your towels and wash cloths off your bathroom vanity. Designate a drawer for hair products and perhaps another for shower accessories like shampoo, soap, and razors.

Avoid Overly Decorative Accessories

Look for bathroom accessories that have clean lines. Avoid buying soap dishes and pumps that are overly decorative; those are better in larger bathrooms. Simple designs will add to the airy feeling in the smaller bathroom.

Use Mirrors and Lighting to Make the Room Feel Larger

A dimly lit room will also make your bathroom look smaller than it is. Installing a large mirror and bright lights will open your bathroom up and give it the illusion of space. Add layers of light to really add depth to the room, including overhead lights as well as vanity lights over the mirror. And don't feel restricted to the one mirror over the vanity. Use smaller decorative mirrors as wall art on other walls to help reflect light.