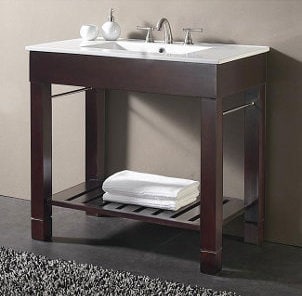 Bathroom storage is a problem when you're stuck with a small bathroom vanity. Whether you're in a first-time apartment and are limited by your contract or you're trying to redecorate a guest bathroom, you'll be happy to know that there are things you can do to make your bathroom vanity seem bigger. If you can't physically change your bathroom vanity, here are a few tips on making the most of a small bathroom vanity.
Tips for a Small Bathroom Vanity:

Invest in storage. If possible, install a bathroom storage vanity that has a drawer and cupboard option to store your bathroom essentials. If that's not a possible option, try investing in bathroom cabinet to hang on the wall. This will leave you plenty of floor space while giving you extra storage. A floor bathroom cabinet will get the job done as well while staying tucked away in a corner of your bathroom.

Keep it clean. Storing your bathroom vanity items in a basket or armoire will give you more vanity space for the things you want to leave out for easy access. The important thing to remember about your bathroom storage is to use it once you have it. Leaving lots of items on your vanity will give it a cluttered and claustrophobic feel. Install extra towels racks to keep your towels and wash cloths off your bathroom vanity. Designate a drawer for hair products and perhaps another for shower accessories like shampoo, soap and razors.

Avoid overly decorative accessories. Make sure your bathroom vanity accessories include clean and sleek lines. Avoid buying soap dishes and pumps that are overly decorative. Instead, invest in simple designs or metallic accessories.

Add mirrors and lighting. A dimly lit room will also make your bathroom look smaller than it is. Installing a large mirror and bright lights will open your bathroom up and give it the illusion of space.

Buy Bath Vanities
Back to Guides Directory