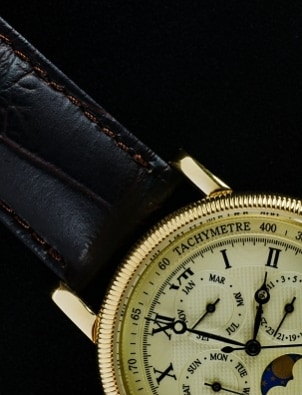 A nice watch is something you cherish, and Longines watches are meant to be cherished for at least a lifetime. Men's Longines watches and women's Longines watches entice stylish people around the world with their luxurious embellishments and top-notch features. Longines has been producing fine Swiss watches since 1832, and the watch company offers a men's watch or women's watch for every taste. When you are shopping for watches, style is a top consideration. Use our facts about Longines watches to choose a men's Longines watch or women's Longines watch that will enhance your collection of Swiss watches.
All about Longines Watches:

Stainless steel: A majority of watches from Longines are crafted of durable and attractive stainless steel. Stainless steel has long been prized in the creation of men's watches and women's watches because it looks great with any outfit and can stand up to decades of daily wear.

Diamonds: Longines is a luxury watch company, and luxury watches deserve glistening diamonds. Many women's Longines watches are embellished with lovely diamonds. Consider a Longines watch with a diamond-covered bezel.

Subdials: Subdials are useful, and they have also become incredibly stylish in recent years. Many Longines watches incorporate subdials that function as chronographs, which allow you to calculate time accurately during sports activities or dives.

Leather: Some Longines watches have leather watch straps, which offer an incredible texture and aesthetic. Black leather watchbands will match anything, while brown leather watchbands lend an antique style to any timepiece.

Dive: Dive watches are crafted carefully to withstand high levels of water pressure. These timepieces are also very attractive. With a variety of subdials, a rotating bezel, a screw-down crown and weighty construction, your dive watch is both functional and fashionable.

Gold: Many Longines watches feature a silver tone, but gold Longines watches are incredibly opulent and eye-catching. A Longines watch with a yellow gold case or a rose gold bezel will enhance your watch collection and go well with the rich hues in your wardrobe.

Ceramic: A watch made entirely of ceramic offers unmatched shine and an unbelievably smooth texture. Longines ceramic watches are extremely durable, giving you a sports watch that can stand up to your jet setting.

Buy Men's Longines Watches
Back to Guides Directory